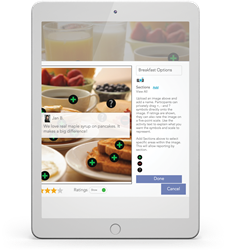 Marketers no longer have to miss out on getting critical consumer feedback. Digsite Sprints make it fast, easy and affordable.
Madison, Wisconsin (PRWEB) January 27, 2016
Madison, Wis.-based software company Digsite launched Digsite Sprints, which provide marketers and brand or product managers with in-depth feedback from consumers in seven days or less. Digsite Sprints are a more turnkey version of Digsite's insight community platform, with expert-designed templates and functionality that allows non-researchers to readily get the type of insights that previously required a significant commitment of time and money.
"We are in the midst of a packaging redesign project and had a number of design concepts from our agency to bring to consumer panels" said Gina Bolger, Vice President of Marketing at Home Run Inn Pizza. "Digsite quickly pulled together targeted consumers in relevant markets and designed and implemented the research we needed.  Within days we had powerful feedback on the design concepts that we used to refine the packaging design. I'm grateful for Digsite's ability to move quickly and effectively to help us with this project." 
In reality, most companies are operating in the dark when coming up with product and marketing concepts. According to the Harvard Business Review, only about 11% of customer-related decisions are data-driven. That means that companies are making big investments in new products, product extensions, ad campaigns and marketing programs without knowing what their customers really think. With a Digsite Sprint, that knowledge is available.
In a Sprint, Digsite quickly creates a community of 25-100 targeted consumers and guides them through short activities over 4 days, with the client's team able to observe, probe and flag important findings. There are Digsite Sprints for different business needs: Product Concept Sprints for validating and optimizing new product concepts; Marketing Concept Sprints for refining and selecting ad, web, packaging, promotion concepts; and Custom Sprints that address a business' unique research questions. Summary reports provide the business with input for decision-making.
While the participants in a Digsite Sprint can be a company's own customers or users, marketers often want to get a fresh perspective or reach a specific target. Digsite's proprietary SocialFind™ recruiting uses microtargeting to find that "just right" audience using social media.
"We conducted Digsite communities among our users and CPG marketers and researchers last quarter to determine how to better serve their needs" said Digsite CEO Monika Wingate. "We discovered that these companies need to get feedback from consumers in days, not weeks, particularly when they're working on new product issues or marketing campaigns. Some were choosing not to do research because it was slow and expensive. Digsite Sprints offer a fast, affordable option."
Limited Time Opportunity: Anyone interested in experiencing a Digsite Sprint and seeing the research process first-hand can participate in a Sprint Community focused on health and wellness (some restrictions may apply). Those who complete the Sprint will get $20. This link will take you to the invitation to the community. (http://bit.ly/1OOrthh)
About Digsite
Digsite® on-demand insight communities transform traditional qualitative research into an online experience that looks and feels like familiar social media. Use Digsite to identify unmet needs, generate and build on new ideas, get feedback on concepts and products and optimize brand communication. With Digsite, marketers go from unanswered questions to consumer-informed decisions in a week or less. Digsite communities can extend for weeks or longer to allow feedback and iteration throughout a product or brand development process. Digsite is accessible by mobile, tablet and PC. Digsite Sprints start at $3,000. If you would like more information, please call Jane Boutelle at 844.344.7483 x701 or visit http://www.digsite.com.