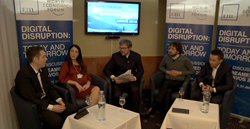 Industries and professions around the world have already seen or are in the process of seeing digital disruption. At EM, we believe that the investor relations profession is next, and it is our intention to lead the disruption
London (PRWEB UK) 28 January 2016
EM welcomed digital leaders to Davos for a discussion of "Digital Disruption: today and tomorrow" that addressed key themes of this year's World Economic Forum. The debate was streamed live on the EM website and is now available to view for free.
The panel brought together four founders and CEOs:

Moderated by EM CEO Tom Blackwell, the discussion tackled topics ranging from the different opportunities offered by digital disruption of and symbiosis with existing industries to the challenges of entrepreneurship, and a look ahead to which sectors might be next to see a digital revolution.
One of the key issues during the discussion was whether digital innovation will reduce educational, geographical and socioeconomic inequality. The Twitter poll run in parallel to the discussion gave a clear answer: more than 55% of respondents said yes, with just 10% disagreeing; the remainder concurred with Zhou Enlai that "It is too early to say".
The EM team wishes to thank all participants in the discussion and everyone that tuned in to the discussion from the US, UK, France, Italy, Germany, Serbia, Russia and China. We look forward to seeing you again next year at Davos 2017.
Key quotes from participants follow.
Tom Blackwell, CEO, EM:
"Industries and professions around the world have already seen or are in the process of seeing digital disruption. At EM, we believe that the Investor Relations profession is next, and it is our intention to lead the disruption."
Hanna Aase, founder and CEO, Wonderloop:
"When it comes to the bigger millions, most investors are men, and their references are doing deals with men. They are used to men being the ones making the money. … The history isn't there of women entrepreneurs making billion-dollar companies. It's chicken and egg because to make that billion-dollar company I need that seed money, that couple of million."
"I think the need for people to think disruptively within existing companies will grow. I think the way we can affect education on that will change. Before it was a lot about the knowledge you had and what you knew. Now it's so much more about your ability to work in teams, your ability to solve problems. … And we now see bigger tech companies hiring entrepreneurs, which is kind of scary because they're stealing a lot of good people."
Brian Pallas, CEO, Opportunity Network:
[On disruption vs symbiosis] "It's not that one is good and one is bad, simply that it's a choice of how you want to grow your business. … Each one has its own advantages. … It's quicker to go for the disruption, but on the other side when you can get the giant behemoth to work with you, then you have a lot of guns on your side. It's quicker to scale on the one side, so your curve will be way more exponential. [But] when you start growing enough, the incumbent will fight back. And regardless of you winning or the incumbent winning, it's a loss of resources on both sides, […] it is not accruing value for the final customer. So the way we look at it is, if you want to go fast, go disruption. If you want to go far, go symbiosis."
Michael Chojnacki, CEO, Closir:
"The world of computers, the world of bits – you can pass that on very easily and you can see that being a force for good. But the other element, the world of stuff, is definitely much more difficult. The question remains how easily can emerging markets or poorer nations adopt the technologies that are built in the West. And I think that will be the challenge: whether it will be a force for equalising or not."
Egor Yakovlev, founder, Tvigle:
"For me technology is a type of a tool, like a hammer. And with this hammer you could put a nail in a wall or you could take this hammer and kill another person. So in the end it is your personal responsibility how to use this technology."
"In most cases when technology comes to a segment it illuminates unnecessary parts of this segment – doing these things more effectively, more properly, and the user or consumer benefits from these things. Services or products become cheaper and become available to a wider group of people."