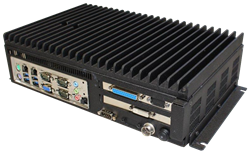 Milford, MA (PRWEB) January 27, 2016
Comark, a cutting-edge manufacturer of high performance computer and display solutions, announces the re-launch of the widely held EnduraNode Fanless Industrial Computer. The robust computer is now being offering with an Intel Core i7 QM87 (4th edition processor) making this the fastest off the shelf computer Comark has to offer.
Accommodating a number of applications, customers can select from AC or DC power, up to 16GB of RAM and up to a 600GB Solid State Drive. Conformal coated electronics are housed inside a rugged aluminum chassis making this an ideal solution for harsh environments. The EnduraNode is a small form factor design but has plentiful expansion to accommodate dual storage drives (RAID 1 or 2 optional), PCIe x16 slot, mini PCIe slot, and a DVD/CD-RW drive.
A key feature of the EnduraNode is the fanless design. Comark utilizes finned aluminum extrusion and strategically placed venting to keep internal temperatures regulated. This key feature paired with an extensive I/O offering makes the EnduraNode a versatile solution for applications requiring a high performance and reliable computer.
The EnduraNode was designed to meet 60945 standards with ABS Approval pending.
For more information on the EnduraNode, please visit http://www.comarkcorp.com or call to speak with your local sales representative at 1-800-280-8522.
About Comark
Comark designs and manufactures high-performance, ruggedized computer and display solutions for mission critical automation and control applications that service commercial, industrial, and government applications. Comark is driven by over 41 years of innovative solutions with over 120,000 systems in the field compromised of off-the-shelf certified solutions, non-certified solutions, and custom engineered solutions. Comark is located in Milford, MA, but through recent acquisitions now has field office locations in Ann Arbor, MI and Minneapolis, MN. Visit http://www.comarkcorp.com for information on Comark brands and products.