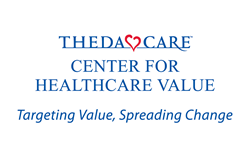 Appleton, Wis. (PRWEB) January 27, 2016
Dr. Hallett is the chief operating officer for two flagship hospitals at ThedaCare, a seven-hospital health system in northeastern Wisconsin. The Center's newest board member combines 20 years of primary care and specialty practice experience with 10 years of knowledge in medical group leadership and the ThedaCare Improvement System (TIS), ThedaCare's application of the Toyota Production System.
"Part of the Center's mission is to redesign care delivery with a focus on value to the patient. Dr. Hallett has been instrumental in helping healthcare leaders adopt lean thinking to further this mission," said Center CEO John Toussaint, MD. "We are excited to have his expertise and enthusiasm to help health systems around the world learn, share and connect on healthcare value."
He formerly served as the chief clinical officer for ThedaCare and, prior to that, co-led ThedaCare Physicians and ThedaCare Orthopedics Plus. Dr. Hallett also has led multiple conference and medical group presentations about how lean thinking improves patient care, including serving as a panelist at the Institute of Medicine's Engineering Optimal Health Care Scheduling in 2014, and as a presenter at the 2015 ABIM Foundation Forum.
"The Center is leading the charge for lean thinking in the healthcare industry. I'm honored to be a part of guiding fellow healthcare leaders along their lean journey," said Dr. Hallett.
In 2012, Dr. Hallett earned a Master of Business Operational Excellence for Healthcare from the Fisher College of Business at the Ohio State University. The Center supported the creation of the Healthcare MBOE program, designed to educate the healthcare leaders of today and tomorrow.
He succeeds board member Dean Gruner, MD, president and CEO of ThedaCare, and joins 14 other high-profile leaders on the Center board of directors:

Leonard Berry, PhD, University Distinguished Professor of Marketing
Maureen Bisognano, CEO of the Institute for Healthcare Improvement
Kathryn Correia, president/CEO of HealthEast Care System
Beth Daley Ullem, a nationally recognized governance expert
Orest Fiume, former vice president of finance and administration for the Wiremold Company
George Koenigsacker, president of Lean Investments, LLC
Arnold Milstein, MD, MPH, director of the Stanford Clinical Excellence Research Center; professor of medicine at Stanford
Paul O'Neill, former Secretary of the United States Treasury
Walter Rugland, non-executive chairman of the ThedaCare Board of Directors
Michael Sachs, chairman/CEO of Sg2
John Shook, chairman and CEO of the Lean Enterprise Institute
Stephen Shortell, dean of the School of Public Health at UC-Berkeley
Jeffrey Thompson, MD, former CEO of Gundersen Health System
John Torinus, chairman of Serigraph
THEDACARE CENTER FOR HEALTHCARE VALUE
The ThedaCare Center for Healthcare Value is an education institute that believes we must have three essential elements for sustainable change in healthcare: Delivery of care designed around the patient; payment and incentives based upon value and outcomes; and transparency of performance (quality and cost) throughout the healthcare system. Founded in 2008 and headquartered in Appleton, Wisconsin, we are a small not for profit with a big mission to help change the healthcare industry. Learn more at: createvalue.org.