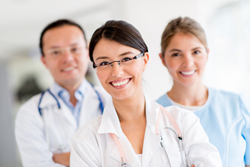 AppRev: Gain confidence in your hospital revenue cycle.
(PRWEB) February 03, 2016
The data collected will compare the last three months under ICD-9 (July-August 2015) to the first three months under ICD-10 (October-December 2015). The published metrics will allow hospitals to view their performance as compared to the experiences of a larger group.
Key Metrics gathered in the study include: Days Cash on Hand; Discharged Not Final Billed (DNFB) in Charges; and Net Days in A/R.
Collected Denial Data will include: Initial Denial Rate; Authorization-Percentage of Initial Denials; Authorization-Number of Denials; Medical Necessity-Percentage of Denials; Medical Necessity-Number of Denials.
AppRev has received a commitment from several hospitals across the country and would like to invite any interested short-term, acute care hospitals to join in the study. Only a limited amount of information will be required of participants, and all responses will be kept confidential. The final analysis will be made available to all participants and shared through a number of HFMA presentations, webinars, on AppRev's website and upon request.
"In order to understand how the conversion to ICD-10 has affected our customers and other hospitals in the United States, we've chosen to conduct our own study," said Seth Avery, AppRev President and CEO. "The results of this study will assist hospitals in understanding how ICD-10 has impacted their denial rate, especially compared to similar facilities."
Interested parties can find the participation form on AppRev's website at http://www.apprev.com.
AppRev is a privately held Healthcare Business Intelligence company based in Temple, Texas, that provides services and technology to more than 80 hospitals throughout the United States and Bermuda. AppRev delivers results through services and technology that allow hospitals and clinics to improve revenue cycle performance. The company's solutions are provided via web delivered Service Supported Software™ and include Charge Accuracy, Denials Intelligence, ICD-10 Metrics, Pricing Analytics, Pricing Transparency using the Market Advantage Price Lookup Tool, CDM and DSH services.