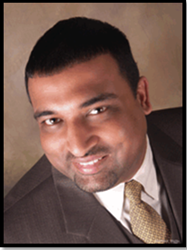 Scotch Plains, NJ (PRWEB) January 27, 2016
Rajdeep Randhawa of Innovative Dentistry has been practicing dentistry since 1988 and is a graduate of New York University College of Dentistry. He strives to introduce new and innovative techniques and technology in the office by availing new opportunities in continuing education. His motivation is to provide patients with the highest standard of care that they deserve. Dr. Randhawa practices comprehensive dentistry where he customizes treatment plans and options to your personal needs and priorities. His goal is to give you the best smile you have ever had. After achieving your dream smile patients are motivated and encouraged to maintain and protect their new smile line by patient education and regular dental maintenance visits. Patient comfort is our highest priority. Dr. Randhawa brings dentistry to you in a simplified and unique way, with a lot of understanding and patience.
Dr. Randhawa is a member of the Academy of General Dentistry as well as the Academy of Cosmetic Dentistry. He continuously takes continuing education courses to learn new techniques and procedures so that he can offer his patients multiple, individualized, customized options to take care of their dental needs and wants including smile makeovers.
Dr. Randhawa strongly believes in patient education that helps informed and educated patients make the best possible decisions about their dental care after knowing how dental neglect can affect their mental, physical and social well-being! In addition to having an informative website, http://www.innovativedds.com , there are regular postings on his google plus pages that can be accessed through the website.
Innovative Dentistry is also actively involved in raising the awareness of local residents of Colts Neck and Rahway and all the patients that visit them about Oral Cancer. They do oral cancer screening as part of their regular dental exam. Approximately 48,250 eople in the U.S. will be newly diagnosed with oral cancer this year. One hundred and thirty-to new people in the U.S. every day will be newly diagnosed with an oral cancer, i.e., one person every hour of the day will die from it!
In the month of April as a part of oral cancer awareness month they coordinate with oral cancer foundation and offer oral cancer screenings, early detection saves lives!
From routine dentistry to complicated smile makeover with invisalign, chairside veneers, and da Vinci Veneers, Innovative Dentistry is equipped to handle all of their patients' dental needs.
Below is a list of some of the services that the practice offers:
Bonding
Cosmetic Reshaping and Contouring
Crowns and Bridges
Specialty Full and Partial Dentures-metal free with natural looking teeth
Cosmetic Fillings
Implants
Veneers
Whitening
Perio Protect ®
NTI-TSS System ®
Snap-On Smiles ®
Sealants
Root Canal Therapy
Extractions
Scaling and Root Planing
Dentures
Cosmetic Dentistry
Invisalign ®
Lumineers ®
ViziLite ® Plus
IMTEC Mini-Implants
Periodontal Treatment
Chairside Dental Veneers
In Office Teeth Whitening
Customized Bite Plates and Mouthguards
Bruxism and Sleep Apnea Dental Devices
Porcelain Crowns, Inlays and Onlays
Gold Crowns, Inlays and Onlays
Dr. Randhawa strives to provide the latest and greatest innovations in dentistry. He specializes in his patients' concerns for their smile and creates a customized treatment plan just for them. The bottom line is that your dental care is his priority, where he uses high quality dental techniques and materials to give his valued patients a smile they deserve. They also help you maintain your smile and excellent oral hygiene by customizing their patients' periodontal treatment with a dental hygienist on staff with over 12 years in experience. Having gentle and regular periodontal visits increases longevity of teeth and helps prevent major dental problems.
Dr. Randhawa has two conveniently located in Rahway and Colts Neck, New Jersey. To learn more about Dr. Randhawa, please follow the link below to his online profile: http://www.njtopdocs.com/drrandhawa .
415 Route 34, Suite #102
Colts Neck, NJ 07722
546 St. Georges Avenue, Suite #3
Rahway, NJ 07065
About Us
NJ Top Dentists is a comprehensive information resource of Top Doctors, Dentists and Hospitals. We are profiling over 900 Healthcare Providers and have made it convenient for you to find them.
NJ Top Dentists allows patients to "meet" these providers online before making their appointment.
For more information, visit http://www.NJTopDocs.com.
You can also follow us on Facebook – Twitter – YouTube