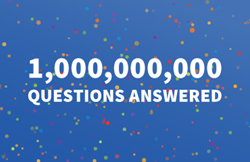 "It took us nearly 10 years to reach a billion, and to think that we could see another billion in just 12 months is remarkable," said Interactive Achievement CEO Jonathan Hagmaier.
Roanoke, Virginia (PRWEB) January 28, 2016
Like the three lucky winners of the Powerball jackpot, Interactive Achievement (IA) recently celebrated its own billion record-setting victory. The 10-year-old educational software company marked this significant milestone as the billionth question was answered in onTRAC, its award-winning formative assessment platform.
"The payout for us didn't exactly match the Powerball winnings, but for us reaching this milestone feels like we hit the jackpot," said IA CEO Jonathan Hagmaier. "In our case, the real winners are the growing number of students and educators who use the system every day to improve student learning and teacher instruction."
Much like the lottery, IA invited the public to participate in celebrating this record-setting event with a contest to predict the exact day the billionth question would be answered. Nearly 1,000 guesses were made in the contest. Logan Armstrong, an instructional technology resource teacher (ITRT) at Grafton Elementary School in Stafford, VA won the contest with her prediction of December 16.
For predicting the correct date, Armstrong will receive $500 for herself, and another $1,000 for the school of her choice. She chose her own elementary school to receive the funds.
The billionth question was answered by an 8th grade student at Shawsville Middle School taking a geometry assessment. To recognize their contribution, Interactive Achievement will also award the Shawsville Middle School classroom with $500 for answering the milestone question.
Meanwhile, the clock has already begun ticking toward two billion questions answered in onTRAC. Since December 16, nearly 17 million questions have been answered, with IA officials predicting the 2 billion mark to hit sometime in 2016.
"It took us nearly 10 years to reach a billion, and to think that we could see another billion in just 12 months is remarkable," Hagmaier said. "It's a testament to the power of the software, and its effectiveness in delivering assessments that help students learn and grow and offer educators unmatched analytics to identify opportunities for improved instruction."
The award-winning onTRAC solution measures student growth and provides educators with an understanding of what students are learning in real-time, allowing them to adjust instruction and create personalized learning plans.
About Interactive Achievement
Interactive Achievement (IA) creates award-winning standards-based instructional improvement systems for school districts that create positive change in student education. IA was founded in 2006 by educators searching for improved assessment and reporting tools to enable both students and teachers to achieve success. As a result, IA's team of educators created the onTRAC system to assist their education peers in making data-driven curriculum decisions in an effort to raise student achievement. OnTRAC is being used in classrooms across 12 states and is currently being piloted in the United Kingdom. IA is ranked 33rd within the Inc. 500|5000 list of Top Education Companies. Visit http://www.interactiveachievement.com for more.