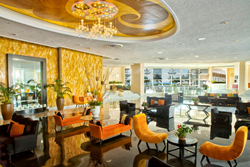 Miami, FL (PRWEB) January 27, 2016
Coast 2 Coast Live is pleased to announce the partnership with the great Deauville Beach Resort on beautiful Miami Beach as the host hotel for the 8th Annual 2016 Coast 2 Coast Convention and Music Conference.
Discount rooms will be available for convention goers at the very favorable rate of $119/night when booked through a special link on the Hotel Info page located at http://www.coast2coastconvention.com. The resort will also host the Registration Party in the the Jazz Club located in the lobby of Deauville Beach Resort to welcome all guests and convention goers to Miami Beach in style.
All Coast 2 Coast Convention Ticket holders will be able to catch the shuttle bus from the front of the Hotel to all of our off site events. For the official bus and event schedule please visit the Schedule page. There will be updates periodically as more events are added to the calendar.
Coast 2 Coast Live is looking forward to meeting all of the previous Coast 2 Coast live Showcase winners in Miami Beach to celebrate all of their successes with Coast 2 Coast Live.
About Deauville Beach Resort:
This contemporary beachfront hotel dating to the 1950s, where The Beatles performed on Ed Sullivan in 1964, is a 1.5-mile walk from the La Gorce Country Club, offering golf.
Sleek rooms and suites with views of the ocean, Biscayne Bay or the city offer 27-inch flat-screen TVs and mini-fridges. A daily resort fee covers in-room WiFi.
The property features a beach, an outdoor pool, a poolside tiki bar and a hot tub. Beach chairs, pool lounge chairs and pool towels are provided as part of the resort fee. Other amenities include a spa (fee), a fitness center, a casual restaurant and a jazz bar. Parking is available for a surcharge.