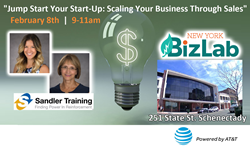 This tightly focused seminar is aimed at start-ups that don't have time to waste and who are in need of bringing revenue in immediately.
Schenectady, New York (PRWEB) January 27, 2016
The New York BizLab, a business lab focused on technology, is hosting Sandler Training on Feb. 8 for a two-hour specially focused seminar for start-ups that is being powered by AT&T.
"Jump Start Your Start-Up: Scaling Your Business Through Sales," powered by AT&T, will be presented by Sandler's Lorraine Ferguson and Lauren Valentine from 9-11 a.m. at the New York BizLab at 251 State St. in Schenectady. Cost is $11.54 and seating is limited.
To register, visit: http://tinyurl.com/BizLabJumpstart
"Start-ups are juggling many things all at one time: They may be incorporating, building a team, creating a product, hiring. And on top of that, they need to land that first sale, and then the next sale, and gain credibility in their industry," said Antonio Civitella, founder and president of the New York BizLab and CEO of Transfinder. "This tightly focused seminar is aimed at start-ups that don't have time to waste and who are in need of bringing revenue in immediately."
Ferguson, president of Direct Impact Associates LLC, the Albany, New York's Sandler training office, said these types of issues were kept in mind when she crafted the laser-focused talk on what start-ups want – and need – to hear.
"Start-ups are in a unique situation when it comes to sales," she said. "There is no shortage of passion and desire to get their idea, concept, or product to market. There is usually a big shortage of time. At the end of the day, the successful entrepreneurs recognize that not everyone is a prospective client, and have a process for figuring it out early."
Topics Ferguson and Valentine will discuss include:

What to consider when scaling a sales organization from an Owner/Seller model
Why what works for YOU (as seller) does not work for others (or "Why don't they just do what I do - it's so easy!")
Why is it so hard to find good salespeople (and what you can do about it)
Best practices for on-boarding, motivating, and holding sales people accountable
The BizLab is pleased to announce that AT&T has partnered with the accelerator to power this unique event for regional startups.
"AT&T is proud to power the New York BizLab's 'Jump Start Your Start-Up' event because it will provide a unique forum for local entrepreneurs and innovators to gain knowledge on essential and complicated business issues associated with launching a successful start-up company from leading industry experts," said Marissa Shorenstein, New York president, AT&T. "Our support for this event grows out of our commitment to foster local innovation by providing opportunities to assist entrepreneurs in their efforts to create new ventures that could strengthen the Capital Region's innovation and start-up economy."
About New York BizLab
The New York BizLab, http://www.nybizlab.net, is a business accelerator located in Schenectady, New York. It is focused on helping tech companies grow smart and grow fast. The BizLab has state-of-the-art space, 1Gig Internet access and more than 30 CEOs and entrepreneurs in its stable of advisers. The BizLab, which is a Start-Up NY-approved site, was founded by Antonio Civitella, the president and CEO of Transfinder, a 27-year-old software company that has landed on Inc. magazine's fastest-growing companies' list for the past nine years.