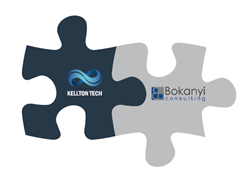 "Bokanyi's acquisition is set to expand our potential in providing world-class and innovative solutions in analytics, enterprise and cloud space with much agility", Niranjan Chintam, Chairman - Kellton Tech
Hyderabad, India (PRWEB) January 30, 2016
Hderabad-based Kellton Tech said it has acquired Bokanyi Consulting, a US-based enterprise, cloud and analytics services provider.
Kellton Tech said in a statement that it funded the entire acquisition through internal accruals but gave no details of the financial transaction.
Bokanyi, which recently celebrated its 10th anniversary and clocked revenue of about $8 million last year, is a recognized expert in serving the mid-market IT needs of customers across 12 countries, the company said.
"It has established itself as a heavy-weight in enterprise solutions market when it recently earned the recertification of its SAP Partner Center of Expertise (PCoE)," it said.
"The recertification places it in the elite segment of top 3% of SAP partners in North America that have the depth and expertise necessary to meet the rigorous standards of SAP. Bokanyi offers full suite of Analytics Solutions providing insightful, customization info-graphics and specializes in SAP HANA implementations," it added.
The acquisition demonstrates Kellton Tech's continued investment in I-SMAC (Internet of things, Social, Mobile, Analytics and Cloud) and its resolve to further strengthen its core focus. It will deepen and diversify Kellton Tech's expertise through complementary customer-base and development capabilities in addition to prestigious technological partnerships, the company statement said.
Niranjan Chintam, founder and chairman, Kellton Tech said, "As we merge, Bokanyi's proven enterprise technology expertise that complements our I-SMAC focus, we look forward to a myriad of new business opportunities while leveraging the cross-selling possibilities brought forth through this acquisition".
About Kellton Tech Solutions Ltd.
Kellton Tech Solutions Limited is a public listed (BSE: KELLTONTEC), CMMi Level 3 and ISO 9001:2008 certified global IT services organization. It is headquartered in Hyderabad, India and has development centers in the United States and India. For two innovative decades, Kellton Tech has put into practice the vision upon which it was founded viz. "to offer infinite possibilities with technology". The company is committed to provide end-to-end IT solutions, strategic technology consulting, and offshore product development services. Kellton Tech serves the full gamut of customers including startups, SMBs, enterprises, and Fortune 500 businesses. The organization has serviced customers representing a wide range of verticals including retail, travel, e-commerce, education, hospitality, advertising, market research, manufacturing, consumer goods, logistics, SCM, and non-profits. Kellton Tech is also a global leader in providing Enterprise Mobility Solutions, Mobile Application Development & Internet of Things.
About Bokanyi Consulting
Bokanyi Consulting is an enterprise, cloud and analytics services provider based in Houston, US. Founded in 2005, Bokanyi provides enterprise selection, implementation and integration, hosting, and application support services as well as a broad range of business software applications in analytics and cloud. As a Certified SAP Gold Partner and reseller of business software solutions from SAP, it demonstrated its leadership status by achieving SAP HANA Support certification, and enables businesses to transition to SAP HANA, real-time digital analytics. Bokanyi has further distinguished itself as one of the elite SAP partners certified as a Partner Center of Expertise (PCoE,) providing a complete range of SAP support and consulting services that include all modules in addition to Basis and Security administration.