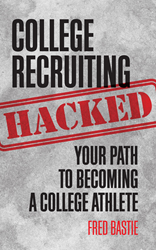 "Through my affiliation with the Dallas Cowboys and NFL.com I know hundreds of college coaches and the advice in this book is the exact advice they would give a high school recruit." Gil Brandt
Dallas, Texas (PRWEB) January 29, 2016
Playced is pleased to announce that the book, College Recruiting: Hacked, Your Path To Becoming A College Athlete, is now available on Amazon in digital and print formats!
Becoming a college athlete is not the vastly complex, totally confusing, incredibly intimidating, exorbitantly expensive process a lot of people would have recruits believe it is. This book is a roadmap to playing in college. The steps are actually simple. This book sets out the work and timelines for the recruiting work, the do and don'ts of parent involvement in recruiting, and guides on how to connect with the right college coaches.
Before getting involved in the college sports recruiting process and its expenses, know what the reality is.
"Bastie leaves out the long lectures you might find in other books. He gets to the point, and isn't that the point? I flew through the book and kept thinking: I want my kids to read this book...Over and over I wished I had read this book as a high-schooler. It simply took every good piece of advice I ever received and lodged it within a series of well-written and tightly crafted pages." Eric Trant