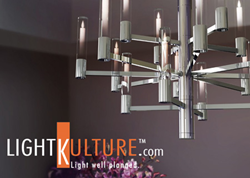 Candles glow inside clear acrylic cylinders, yet there are no flames or candles. Laser etchings illuminated by LED's create this holographic effect.
New York, NY (PRWEB) January 28, 2016
LightKulture is happy to offer a sneak peak at the latest designs from Stephen Blackman. Blackjack Lighting was introduced in 2013 to directly address the void in LED design-drive residential lighting fixtures."Stephen has a distinctly tailored style with a modern flair that is timeless. The styling is very relatable, contemporary and classic", noted Susan Inderbinen, President of LightKulture.com. Contemporary to the core, Blackjack Lighting offers a complete collection of LED chandeliers, LED pendants, and LED wall sconces to outfit an entire space with visually powerful lighting. Both, decorative and high-performance, the collection illuminates in ways that incandescent never could. A rare combination of engineering expertise and design artistry goes into every piece of the collection. Having won the prestigious Lighting for Tomorrow award in both 2014 and 2015, confirms this brand is on the right track.
New for Spring 2016, Blackman introduces the Seraph collection. Candles glow inside clear acrylic cylinders, yet there are no flames or candles. Laser etchings illuminated by LED's create this holographic effect. The etchings fade towards the base of each candle to create a floating effect of light,that disappears when the fixture is turned off. The Seraph Chandelier series is available as a 26" diameter three-tier chandelier, or 32" four-tier chandelier. The family also includes a two-light wall sconce. Available in polished chrome, the 3000K, 90 CRI chandeliers deliver as much as 2830 lumens. Dimmable, using compatible triac wall dimmers, the Seraph chandelier collection offers a magical centerpiece in a residential or hospitality setting.
for more information go to
Blackjack Lighting - http://www.lightkulture.com/brands/Blackjack-Lighting.html
LightKulture.com Discovers LED Hologram Chandeliers Now Available from Blackjack Lighting
"One of the more unique finds at the 2016 Winter Lightovation Trade show, was the latest collection introduced by Blackjack Lighting. We found a variety of designs we liked immediately. Their bold geometric shapes include spheres, triangles, and now square shapes, which are very popular this year. Square is the new black for 2016. This is a trend I noticed across the lighting market, executed particularly well by Stephen Blackman. In a world of round, Stephen has always been square, now the word it out. The one fixture that put a smile on my face was the Seraph. The dimmable, laser etched candle hologram disappears when the light is off, it's brilliant. The tapered, linear structure has the feel of a traditional lighting fixture, yet, it features the latest in LED technology and artistry. We are taking pre-order for Spring delivery. A limited first release should be available this April. I know our design clientele will be happy to have this refreshing option to specify, while our residential clients will embrace the look and technology themselves", noted Susan.
About LightKulture.com
At LightKulture.com, our mission is to offer the finest energy efficient contemporary lighting and light fixtures from around the world. We have assembled an exciting collection of the industry's most innovative decorative and architectural lighting.We are proud to offer lighting solutions for both your home and work-life environments. Simplicity in design is complicated, function makes it last. Be inspired by our range of essential designs from well respected American and European manufacturers. In today's world, energy efficient lighting is as important as eco-friendly or green lighting fixtures, such as LED or CFL lighting. We offer the very best energy efficient lighting and light fixtures, both high value LED lighting fixtures and CFL lighting fixtures in modern and contemporary styles that provide quality, innovation and authenticity.
LightKulture
http://www.lightkulture.com/
Email. sales(at)lightkulture(dot)com
Tel. 941-330-0422