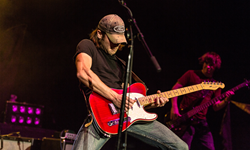 I have attended the outdoor show for years with my family and have grown up hunting, fishing, and camping in central Pennsylvania. It's an honor to return to my hometown and open this show.
Harrisburg, Pennsylvania (PRWEB) January 28, 2016
Ben Gallaher, Sony Music Nashville recording artist, songwriter, and avid outdoorsman, will perform at the 2016 Great American Outdoor Show opening up for country star Justin Moore. The NRA Country concert is on Saturday, February 13 in the Large Arena at the Farm Show Complex & Expo Center, in Harrisburg, Pennsylvania.
The Great American Outdoor Show is the largest consumer and sports outdoor show in the world.
"I have attended the outdoor show for years with my family and have grown up hunting, fishing, and camping in central Pennsylvania. It's an honor to return to my hometown and open this show," says Gallaher. "I remember seeing Justin Moore perform at the PA Farm Show Complex years ago, and I am beyond excited to open for him in the same Arena."
This will be Gallaher's first time returning home for a public performance since he headlined his "Hometown Stompin' Ground" concert in June 2015, at the Radisson Hotel in Harrisburg. "I am really looking forward to performing for my hometown fans—these people have been with me since the start of this journey," says Gallaher. He will debut some of his new music for the very first time.
Gallaher will open for headliner Justin Moore whose current single is titled "You Look Like I Need a Drink." Moore's number one singles include "Small Town USA," "If Heaven Wasn't So Far Away," and "Til My Last Day." Also opening is LoCash. Previously known as LoCash Cowboys, the duo currently has a single on country radio titled "I Love This Life."
To purchase tickets for the NRA Country Concert, visit http://www.nracountry.com/concert.
Doors open at 6:30 p.m.
Connect with Ben Gallaher at BenGallaherMusic.com, and on Twitter, Instagram, Facebook, and Snapchat at Ben.Gallaher.
ABOUT BEN GALLAHER
Ben Gallaher graduated from Belmont University in May 2014, signed a record deal with Sony Music Nashville in October 2014, and signed a publishing deal with Universal Music Publishing Group in May 2015. Raised in Camp Hill, Pennsylvania, he has opened for Lee Brice, Lynyrd Skynyrd, Tyler Farr, Brantley Gilbert, .38 Special, and more. Gallaher finished his fifth "Barbed Tour" in 2015 where he performs in Pennsylvania's State Correctional Institutions. An Eagle Scout, avid hunter, angler, and outdoor enthusiast, Gallaher lives in Nashville when he's not on the road touring.
ABOUT THE GREAT AMERICAN OUTDOOR SHOW
Celebrating the outdoor traditions treasured by millions of Americans and their families, the Great American Outdoor Show Presented by Outdoor Channel is the world's largest consumer outdoor show and will be held February 6-14, 2016, in Harrisburg, PA. Hundreds of thousands of attendees will spend nine action-packed days celebrating the hunting, fishing and outdoor traditions enjoyed by generations of Americans. The show features over 1,100 exhibitors ranging from shooting manufacturers to outfitters to fishing boats and RVs, and archery to art covering 650,000 square feet of exhibit hall space! Not to mention a jam-packed schedule including fundraising dinners, speaking events, archery competitions, celebrity appearances, seminars, demonstrations and much more. Information and tickets at http://www.greatamericanoutdoorshow.org.
ABOUT NRA COUNTRY
Respect. Honor. Freedom. It's a lifestyle and a bond between the best and brightest in country music and hard-working Americans. NRA Country is powered by pride, love of country, respect for the military, and our responsibility to protect our great American lifestyle. NRA Country celebrates these values with concerts and events benefiting military and veteran services organizations, first responders, conservation organizations, firearm safety programs, and local charities making a difference in their communities. Get NRA Country Connected at http://www.nracountry.com and get the latest artist info and exclusive events on Facebook, Twitter, and Instagram.