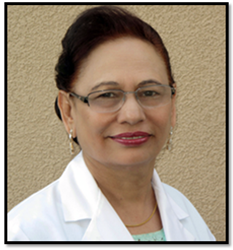 Scotch Plains, NJ (PRWEB) January 27, 2016
Dr. Charanjit K. Sandhu, NJ Top Dentist, graduated from New York University College of Dentistry in 1991. A year later, she opened her own private dental office. She is celebrating her 25th year in practice.
Passionate about dentistry and staying abreast of changes in various fields of dentistry, Dr. Sandhu has aggressively pursued continuing education courses over 1700 CE hours.
With her advanced education in the area of implant dentistry, bone-grafting, surgery, conscious sedation, orthodontics and cosmetic dentistry, she practices all phases of general dentistry including but not limited to cosmetic, restorative, removable and fixed prosthodontics, oral surgery, periodontics, endodontics, and implant dentistry.
She has a proven track record of being an accomplished dentist with unmatched clinical skill in various fields of dentistry. Her proficiency in Evaluation and Diagnosis of dental ailments is unparalleled. She believes in prevention and treats each patient with compassion, respect and professionalism. She is blessed with artistic and soft hands that appeal to her patients. She is gentle, kind and caring.
The reconstructive dentistry in her office deploys the use conscious sedation. She is an expert in treating temporomandibular joint (TMJ) disorders, Sleep apnea, and snoring disorder in children and adults. She uses appliance therapy for patients who have CPAP intolerance. She also advocates DNA appliance therapy.
Another aspect of her practice is orthodontics. She has been treating adults and children with braces and orthopedic appliances. She has also been Invisalign Preferred Provider for many years. Her newly redesigned offices provide you comfort and relaxing environment for treatment.
She has distinguished her dentistry as a unique blend of science and art in 23 years of dental practice. She performs variety of aesthetic and restorative dental services to improve your appearance, confidence, comfort and general health. She often receives compliments for being great with kids and fearful patients. She believes in minimal treatment that provides maximum benefits. She practices preventive and conservative dentistry.
Dr. Sandhu's office provides many services and treatments, including:
Cosmetic Dentistry
Cosmetic Bonding
Veneers
Teeth Whitening
Deep Bleaching
Cosmetic Gum Re-Shaping
Smile Makeover
Snap-On-Smile
Sedation
General Dentistry
Preventive Dentistry
Periodontics
Root Canal Treatment
Crown and Bridge
Dentures
Restorative Dentistry
Oral Surgery
Pediatrics
Orthodontics
INVISALIGN
Braces
Sleep Apnea / TMJ
Sleep Apnea
DNA Appliance
Night Guard
Implants
Single tooth Replacement
Bridges (Non-removable)
Implant-Supported Locator attached partials
Implant-Supported Over Dentures (Removable)
Implant Dentures (Non-removable)
What sets her apart is most dentists in the area refer patients to oral surgeons for surgical phase of dental implant procedures but is certified for surgical and restorative phases of implant dentistry. Her unique blend of orthodontic correction and obstructive sleep apnea allows patients to make an educated decision to breathe better and snore-less while asleep, She takes time to deliver a high standard of dental excellence. As a professional, she feels her calling is to serve people and develop lasting relationship by promoting health and wellness through the provision of dental care. She is involved in various community activities and devotes her time and services to various non-profit organizations.
Dr. Sandhu is conveniently located in Linden, New Jersey. To learn more about Dr. Sandhu please follow the link below to her online profile: http://www.njtopdocs.com/drsandhu .
About Us
NJ Top Dentists is a comprehensive information resource of Top Doctors, Dentists and Hospitals. We are profiling over 900 Healthcare Providers and have made it convenient for you to find them.
NJ Top Dentists allows patients to "meet" these providers online before making their appointment.
For more information, visit http://www.NJTopDocs.com.
You can also follow us on Facebook – Twitter – YouTube