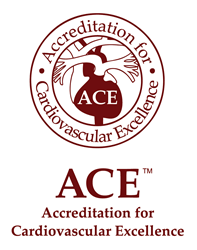 Having that motivational driver [of ACE accreditation] was key because [ACE] gave us a template to follow. It was very helpful as we moved forward. -- Timothy C. Ball, M.D., Ph.D.
Washington, DC (PRWEB) January 28, 2016
Accreditation for Cardiovascular Excellence (ACE) was prominently featured in a January 12, 2016 Cardiovascular Business article on "Adopting Structured Reporting in the Cath Lab: Strategies that Work." In this article, ACE Chief Medical Officer Bonnie H. Weiner, M.D., MSEC, MBA, and Timothy C. Ball, M.D., Ph.D., medical director of the cardiac catheterization lab at Carilion Roanoke (VA) Memorial Hospital, are quoted on the value of ACE accreditation in helping interventional cardiologists transition to structured reporting.
Dr. Weiner is a co-author of the American College of Cardiology/American Heart Association/Society for Cardiovascular Angiography and Interventions 2014 Health Policy Statement (HPS) on Structured Reporting for the Cardiac Catheterization Laboratory, which describes structured reporting as a process that strives for "clarity and completeness of documentation, consistency in the organization and presentation of information, and fulfillment of requirements for quality reporting, regulatory compliance, coding and billing, all while reducing the time devoted to documentation and improving operator efficiency."[1]
"There are no ideal systems for structured reporting in the cardiac catheterization laboratory yet, so ACE has created templates that can be customized to the needs of the institution," Dr. Weiner said. "These templates are part of the quality metrics in our accreditation process that are adapted to the requirements and workflow of the organization."
In the Cardiovascular Business article, Dr. Weiner noted that careful selection of a workflow model "takes some of the documentation burden off the physician" when implementing a structured reporting system. She also described software issues as "the biggest challenge for [hospitals]" as they move toward structured reporting, which requires the design and implementation of systems that are "programmed to incorporate all of the data that we would want to have in a standalone report."
Carilion achieved ACE accreditation in 2013, and was re-accredited in 2015. The Cardiovascular Business article quotes the desire of Dr. Ball and colleagues "to be known as a cath lab of excellence." ACE accreditation was a major factor in the facility's adoption of structured reporting. "Having that motivational driver was key because [ACE] gave us a template to follow. It was very helpful as we moved forward," Dr. Ball told Cardiovascular Business. The team at Carilion worked collaboratively to solicit input and forge consensus among physicians and other cath lab staff to implement a structured reporting protocol, and on efforts to customize electronic systems and software programs that are compatible with the institution's electronic health record.
About Accreditation for Cardiovascular Excellence
ACE is an independent organization sponsored by the Society for Cardiovascular Angiography and Interventions (SCAI). ACE offers independent evaluation and monitoring of facilities that provide cardiovascular care. By reviewing facility and operator performance and comparing clinical decision-making to nationally accepted best practices; ACE quality review and accreditation services play a critical role in continuous quality improvement programs. Learn more at http://www.cvexcel.org.
____________________________
[1] Sanborn TA, Tcheng JE, Anderson HV, et al. ACC/AHA/SCAI 2014 health policy statement on structured reporting for the cardiac catheterization laboratory. J Am Coll Cardiol. 2014;63(23):2591-623. doi: 10.1016/j.jacc.2014.03.020.