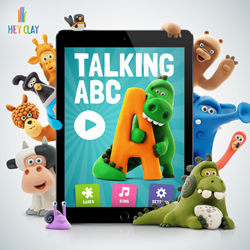 I adore this app. So do my students! It is bright and colorful with lots of great animations that attract attention
Kennesaw, Georgia (PRWEB) January 28, 2016
HEY CLAY, the creator of Talking ABC, which earned App Store Best Kids App 2013 from Apple, has announced the launch of Talking ABC in French. Available on the App Store and Google Play, ALPHABET PARLANT is an interactive alphabet created with love and care.
The process of learning the letters is exciting and fun while amusing animal characters are made in the style of clay animation.
Each animal has a Talking mode, enabling a child to not only listen how letters and animals sound, but also to practice the pronunciation. A cheerful, beautiful and memorable song about letters will help to remember the alphabet easily and will bring a wonderful mood. The app contains 6 games, each of which is interesting and efficient in its special way.
FEATURES:
— Exciting learning of letters from A to Z
— Unique clay art
— 2 learning modes – letters and sounds
— Funny and catchy alphabet song
— Amazing animals with talking mode
— Kid-friendly interface
— 6 exciting and educational games
— Puzzles with animated animals
— No in-app purchases
Users of the English app version prove that the application is not only useful but also brings kids joy and fun: "Many features such as learning letters, words, animals and puzzles prevent from boredom", "Kids can expand their vocabulary while they are playing with it!", and "I adore this app. So do my students! It is bright and colorful with lots of great animations that attract attention".
ALPHABET PARLANT (the French version) is available as a free download for a limited time only on the App Store and Google Play.
For more information about the app, visit: http://hey-clay.com/talking-abc
Contact Alina Bieglova, Marketing & Communications Manager, at bieglova(at)hey-clay(dot)com.
About HEY CLAY
HEY CLAY creates an interactive world of beautiful claymation characters via our applications for kids. Learning new things and discovering the world around has never been so amusing.
Follow HEY CLAY on Facebook: https://www.facebook.com/heyclayapps and Twitter: @HeyClay_