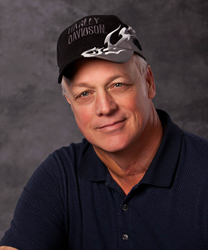 Norland on life after surviving electrocution by a 12,500-volt, 200-amp overhead powerline, "People need to understand that when they take short-cuts and make mistakes, they aren't only risking their own well-being — they risk everyone's around them, too."
Portage, Michigan (PRWEB) January 28, 2016
For Gary Norland, that day in 1992 was just like any other day — except that it was a Friday, and he had places to be and things to do after work. There was an hour and 40 minutes left in the workday and no budget for overtime. Plus, it was Homecoming night, and Norland had volunteered to serve at the Sheriff's Department that evening.
"In trying to get out of there on time, I took short-cuts and made mistakes," Norland says. "I got hurt because I lost focus. I was focused on everything I was supposed to do that evening instead of what I was doing at that moment."
As the PowerTest 2016 keynote speaker, Norland will share his heartbreaking, unforgettable story of how rushing and neglecting to put safety first resulted in his electrocution by a 12,500-volt, 200-amp overhead powerline.
PowerTest, sponsored by NETA – InterNational Electrical Testing Association, is March 14-18, 2016, at the Omni Fort Worth Hotel in Fort Worth, Texas. Norland's keynote address will take place Monday, March 14, at 8:30 a.m.
Norland's story isn't an easy one to hear. He suffered severe electrical burns over nearly 40 percent of his body. He lost three weeks of his memory, and for a long time, couldn't remember anything longer than 60 seconds. Doctors said he had suffered permanent brain and spinal cord damage and would never walk again. In fact, the doctor on duty that night told Norland's brother that he wasn't going to make it. Eventually, Norland lost count of the surgeries — more than 50 over a period of seven years.
Interestingly, Norland's presentation is just as much about what other people suffered as a result of his accident as it is about what he had to endure.
Norland gave a small safety workshop at last year's PowerTest conference, and attendees were so impressed by his message that they asked to have him speak again. "I'm going to tell my story and give the safety message, but this year, I'm also going to bring my wife to give her viewpoint on how my injury impacted her life and that of our family," he says.
"She didn't leave my side for the first four months," he continues. "Relatives and friends had to disrupt their lives to take care of our kids. The community held fundraisers for us, which meant that people gave the money they worked hard to earn to help us, just because I was careless on the job. People need to understand that when they take short-cuts and make mistakes, they aren't only risking their own well-being — they risk everyone's around them, too."
PowerTest 2016 represents the largest gathering of electrical power systems professionals in the industry and is the only conference and trade show specifically designed for the electrical testing industry. As the premier electrical maintenance and safety event, the PowerTest 2016 audience will feel an affinity to Norland's story. As he puts it, "Think — or this could be you."
"People think that companies want them to hurry and get the job done quickly," says Norland. "But the majority of companies are trying hard to get their people to slow down and understand that it's not about production — it's about safe production. It costs the company a lot more if a worker is seriously injured on the job than it does if the worker puts safety first and takes the time to prevent accidents."
A few years after the accident, Norland told himself: "You can sit around collecting social security and be a burden on society, or you can get out there and help other people learn from your experience." He began giving safety talks to all sorts of organizations, spreading the message that your life can change in an instant — just like his. Last year alone, Norland gave 80 presentations.
"The message is about motivating people to be safe," he says. "Whether you're above the ground, on the ground, below the ground, at work, or at play, you've got to think things through. Your safety comes down to you."
With Norland's Monday keynote followed by a week of 35 learning sessions and 12 in-depth technical seminars — as well as the ability to explore new products, ask questions, and expand their professional network — Attendees can even submit sessions for continuing educational credits. PowerTest 2016 is an excellent training event and a solid value for the investment. In addition, attendees receive a USB drive saved with all PowerTest 2016 Monday presentations.
Register for PowerTest 2016 online at http://www.powertest.org, where a complete PowerTest 2016 Conference and Trade Show agenda is available. Attendees may also call 888-300-6382 (NETA) for assistance.
ABOUT NETA
NETA is an ANSI Accredited Standards Developing Organization that creates and maintains standards for electrical maintenance and acceptance testing for electrical power equipment and systems, as well as a standard that addresses the certification of electrical testing technicians. NETA is an association of leading electrical testing companies comprised of visionaries committed to advancing the industry standards for power system installation and maintenance to ensure the highest level of reliability and safety.