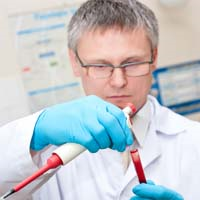 ENOX2 protein transcript variants characteristic of malignant mesothelioma were present in serum 4-10 years in advance of clinical symptoms
Raleigh, NC (PRWEB) January 29, 2016
Scientists in Australia say it may soon be possible to detect the signs of malignant mesothelioma 4 to 10 years before a patient gets sick. Surviving Mesothelioma has just posted an article on the new research. Click here to read it now.
Using a test developed by a Louisiana-based biotech company, researchers in Australia tested the serum of people who had been exposed to asbestos, the primary cause of mesothelioma.
"In a population of asbestos-exposed subjects who eventually developed malignant mesothelioma, ENOX2 protein transcript variants characteristic of malignant mesothelioma were present in serum 4-10 years in advance of clinical symptoms," writes study co-author D. James Morre with MorNuCo, the company that makes the test.
According to the company, the ENOX2 proteins that the test detects may also offer a target for mesothelioma treatment.
"Mesothelioma tends to produce very few symptoms until it is already quite advanced. This is an especially critical study because earlier detection is vital to improving mesothelioma survival rates," says Alex Strauss, Managing Editor of Surviving Mesothelioma.
To read more about the new test, see Blood Test May Detect Mesothelioma Even Before Symptoms Appear, available now on the Surviving Mesothelioma website.
Morre, DJ, "ENOX2-based early detection (ONCOblot) of asbestos-induced malignant mesothelioma 4-10 years in advance of clinical symptoms", January 22, 2016, Clinical Proteomics, eCollection, http://link.springer.com/article/10.1186%2Fs12014-016-9103-3
For nearly ten years, Surviving Mesothelioma has brought readers the most important and ground-breaking news on the causes, diagnosis and treatment of mesothelioma. All Surviving Mesothelioma news is gathered and reported directly from the peer-reviewed medical literature. Written for patients and their loved ones, Surviving Mesothelioma news helps families make more informed decisions.