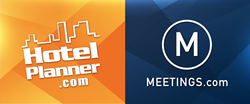 It's great for the customer, the hotel, and even the environment, eliminating all that paper and making people's lives easier
West Palm Beach, FL (PRWEB) January 28, 2016
The new next level of tech enhancement has arrived. Together with DocuSign Inc. (DocuSign®), the leader in eSignature and Digital Transaction Management (DTM), HotelPlanner and Meetings.com proudly announces the launch of eContracting™, which allows hotels to digitally send, sign, manage and receive signatures for group contracts for fast, easy, and secure review, approval and signature. Handling contract needs for all kinds of hotels and types of groups that used to take days, even weeks to do, is now simply done in a matter of minutes – 100% digitally.
Utilizing DocuSign's industry-leading eSignature solution and Digital Transaction Management (DTM) platform to book and manage group contracts has never been more efficient. With a number of hotels already on board, this technology helps sales staff and clients do business anytime, anywhere, on virtually any internet enabled device without the hassles of printing, faxing, scanning or overnighting paper documents.
"eContracting™ is the future and technology that the industry had never seen before," stated Tim Hentschel, CEO of HotelPlanner and Meetings.com. "It's great for the customer, the hotel, and even the environment, eliminating all that paper and making people's lives easier."
In development for over a year, HotelPlanner and Meetings.com's eContracting™ application integrated quickly and easily using DocuSign's API is not only cutting edge technology when it comes to being environmentally friendly, secure, and more searchable, but it also offers another added convenience: the power to book and sign a group booking contract on any mobile device, desktop, or laptop computer.
About HotelPlanner & Meetings.com
HotelPlanner.com provides group hotel booking services to 2,000 groups per day in the global group travel market. The company's group hotel booking service ensures the lowest rates by allowing customers to receive quotes online directly from hotel group sales managers. HotelPlanner allows customers to book hotels for business meetings, conferences, conventions, family reunions, weddings, extended stays, tours, military reunions, church events, and group travels. The company also provides mobile applications for booking group hotel reservations. The company owns and operates Meetings.com, a site that provides information and booking services for group, meeting, and individual hotel stays for the corporate and business to business enterprises. Founded in 2002, the company has offices in London, England, (European Headquarters), Hong Kong (Asia Headquarters), West Palm Beach, FL (USA Headquarters), and Las Vegas, Nevada.
HotelPlanner.com is proud to provide hotel reservation services to the following valued clients within the sports team and university, corporate, and government organizations. The company's Pro Sports Team clients most notably include the San Diego Chargers, Washington Redskins, St. Louis Rams, Professional Bowlers Association, European Professional Golfers (EuroPro), Super League (Rugby), AFC Wimbledon, Millwall F.C., and Queens Park Rangers F.C. In terms of college travel, Universities such as Texas A&M, New Mexico State, Saint Mary's College, Bradley University, University of Reno-Nevada, University of Illinois-Chicago, Northeastern University, Cal Poly, and California State University Northridge use HotelPlanner to negotiate their group travel and recruiting stays. Corporations such as CROMPCO, Siemens, Jackson Motor Sports, National Grid, Chicago Bridge & Iron, Publix, and Servpro and Government clients such as the State of Louisiana, State of Mississippi, Government Services Agency, US Marines-Camp Le Jeune (Group), and US Communities also utilize HotelPlanner.com as their hotel procurement provider to negotiate hotel rates, book hotel reservations and provide excellent service year-round.
For more information, please contact Bruce Rosenberg at (818) 661-0244 or via email at Bruce.Rosenberg(at)hotelplanner.com
About DocuSign, Inc.
DocuSign® is changing how business gets done by empowering more than 100,000 companies and more than 50 million users in 188 countries to sign, send and manage documents anytime, anywhere, on any device with confidence. DocuSign replaces printing, faxing, scanning and overnighting documents with the easiest, fastest, most trusted way to make every approval and decision digital. Organizations of all sizes and industries are accelerating contracts, approvals and workflows with DocuSign's Digital Transaction Management (DTM) platform and eSignature solution. DocuSign keeps life and business moving forward.
For more information, visit http://www.docusign.com, call +1-877-720-2040, or follow us on Twitter, LinkedIn and Facebook.
Copyright 2003-2015. DocuSign, Inc. is the owner of DOCUSIGN® and all of its other marks (http://www.docusign.com/IP).