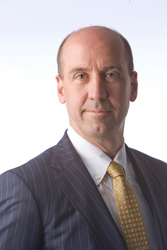 In order to future proof an organization, leaders and workers need to be asking better questions.
Minneapolis, MN (PRWEB) January 28, 2016
How can one prepare for the future? Global futurist Jack Uldrich says, "Question it."
Uldrich goes on to say, "Today, the greatest change is the rate of change itself. Put another way, society is transitioning to a period of constant transition. The net effect is that "answers" about the future are decreasing in value. This reality is, paradoxically, placing greater emphasis on the need to ask better questions."
This month Uldrich will join guest speakers such as Peyton Manning, Sylvia Burwell and Michael Dell at the Healthcare Information and Management Systems Society (HIMSS) in Las Vegas. Prior to that Uldrich will deliver nine other keynotes across the US.
The topics for his keynotes this month will range from discussions on the future of insurance, e-commerce, healthcare information, and the utility industry, "Questioning the Future," as well as presentations on the influence of The Internet of Things and Big Data. At the HIMSS event in Las Vegas he will speak on "Leadership Insights for the Year 2020 and Beyond."
His speaking schedule is as follows:
Feb 01, 2016 FedEx • Memphis, TN
Feb 02, 2016 Private Pharmaceutical Firm • Boston, MA
Feb 05, 2016 Urban Land Institute of Minnesota • St. Paul, MN
Feb 09, 2016 Trane • Phoenix, AZ
Feb 12, 2016 Urban Land Institute of Minnesota • St. Paul, MN
Feb 15, 2016 National Rural Electric Cooperative Association (NRECA) • New Orleans, LA
Feb 18, 2016 National Association of Office Development Professionals (NAIOP) • Golden Valley, MN
Feb 24, 2016 Munich Re • Beaver Creek, CO
Feb 25, 2016 Metals Service Center Institute • Orlando, FL
Feb 29, 2016 Healthcare Information and Management Systems Society (HIMSS) • Las Vegas, NV
In his thought-provoking yet practical presentations Uldrich shares with his audiences how the art and science of framing and asking better questions will not only help individuals and organizations survive tomorrow's rapidly changing environment but thrive in it by providing the key insights necessary for confidently creating their own future.
A highly regarded speaker on the technology, change management, and leadership lecture circuits, Uldrich has addressed numerous businesses, trade associations, and investment groups around the world, including IBM, Cisco, USAA, General Electric, Wipro, Verizon, General Mills, Pfizer, and the U.S. Chamber of Commerce. Other recent clients include SW Graduate School of Banking Foundation, Farm Credit Bank of Texas and several private financial firms. He is also a regular guest speaker on CNBC, MSNBC and CNN.
More information on Jack Uldrich, his writing, speaking and research can be found here.