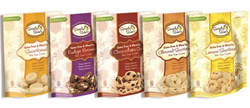 (PRWEB) January 27, 2016
Simply Shari's gluten-free products were started by the passionate creator, Shari Cole, who's real-life family story of celiac disease and autism gave her the inspiration to create delicious, high-quality gluten-free goodies.
Shari's father was diagnosed with celiac disease late in life, and her mildly Autistic daughter was very sickly as a little girl. After many unsuccessful doctors' visits and seeing her daughter becoming more lethargic, Shari put her daughter on a gluten-free diet with incredible results.
Shari began experimenting in the kitchen with various recipes to create the best-tasting, most flavorful gluten-free food. Shari worked the right combination of ingredients to make homemade, great-tasting gluten-free products. After witnessing the health improvements in her family and with a lot of support from family and friends, Shari took the recipes from the home kitchen to production. With fresh, attractive pricing, packaging and placement in thousands of stores, Simply Shari's gluten-free tasty morsels can serve everyone looking for a healthier alternative to overly-processed foods.
Today, Simply Shari's is starting a Kickstarter campaign to create more of the tasty delights. Join Simply Shari in spreading the word about helping folks who struggle with celiac, autism, and auto-immune diseases or just want to live a gluten-free lifestyle to get a delicious, tasty choice. Details of the Kickstarter are at https://www.kickstarter.com/projects/simplyshariscookies/sharis-cookies?ref=nav_search
Simply Shari's gluten-free assorted shortbread cookie flavors are delectable treats made with real ingredients! The cookies are packed with flavor and texture. Never before has a gluten-free shortbread cookie tasted so buttery. All of the Simply Shari products are made with real butter giving it chewy, moistness and superior taste.
All ingredients are kosher, clean and GMO-free. Simply Shari's proudly displays the Celiac Sprue Association (CSA) Recognition Seal and the Certified Gluten-Free (GF) Seal that show the products are tested and certified gluten free. Simply Shari's is also a minority-owned women's business certified by the WBENC.
Interested in spreading the word of this Kickstarter that will give more fatigued celiac and gluten sufferers a tasty snack to nibble on? Go to https://www.kickstarter.com/projects/simplyshariscookies/sharis-cookies?ref=nav_search or contact me for a sample!