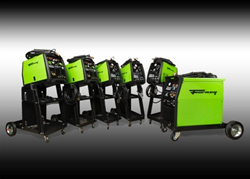 Forney Industries has taken a thorough look at what our customer needs to make him or her successful in the trade. Our customers wanted specific improvements to our current selection and a deeper variety of what we offer.
Fort Collins, CO (PRWEB) January 28, 2016
Forney Industries announced the further expansion of its signature green welding machine line with new plasma cutters and five new welding machines. For more than 80 years, Forney Industries has held a leadership position in the welding industry with its comprehensive line of welders and welding-related products. The refreshed and expanded line is designed with the welding and do-it-yourself (DIY) enthusiast and first-time user in mind. This expansion will not only make the line much more comprehensive and valuable to the customer, but the addition of the new plasma cutters will serve to round out what Forney Industries currently offers to the market.
"Forney Industries has taken a thorough look at what our customer needs to make him or her successful in the trade," said Jason Mahugh, Senior Manager Welding Products and Engineering. "Our customers wanted specific improvements to our current selection and a deeper variety of what we offer. Now, we have an impressive and expanded line of welders and plasma cutters that complete all categories and are available for anyone regardless of their work or hobby and taking into account their level of knowledge."
Added to the six welders Forney launched earlier this year, now they have added eight additional welding models, two new plasma cutters (designed for a variety of users and applications) and five new welding machines.
"Forney Industries has been a leader in the welding industry for close to a century," said Steve Anderson, President and CEO. "I don't remember a time when the company has branched out offering the large range of offerings we are now. I think our customer benefits greatly from what we have been able to develop and bring to the market. After all, our customers told us what was needed in the market and we came through."
With regards to the new welding products, Forney is now offering a full-sized welder (242 Dual MIG) capable of MIG welding either aluminum or steel with a flip of a switch. A Stick welding machine with Lift-arc TIG capability (220 ST) can be operated with either 230V or 120V. Forney is also offering a high feature AC/DC TIG machine perfect for a wide range of applications whether it's steel, stainless steel, or aluminum. "Consistent with all Forney products, we strive to pack an ample amount of features into our machines while maintaining an attractive price point which ultimately benefits the end user," added Mahugh.
Along with the new high-functioning welders, Forney has also added two Forney Easy Weld machines targeted to the creative and adventurous do-it-yourself -- both operate with a 120V and have an attractive price point for the first-time welder. The Easy Weld 100 ST is an easy-to-use Stick/TIG machine and the Easy Weld 125 FC MIG is a wire feed welder that requires no shielding gas and also operates off 120V.
Earlier in the year, Forney added six new welders: 140 MP, 190 MP, 140 MIG, 190 MIG, 210 MIG, and the 270 MIG. Forney Industries began shipping the 210 MIG and 270 MIG welders in early in the year and have been well received by consumers. These machines are designed with increased output for welding a variety of thicker, larger materials. Available currently are the MP "Multi Process" welders and the 140 MIG and 190 MIG welders. The MP welders offer the welding enthusiast the ability to MIG, Stick or TIG weld in a single machine and the 140 MIG and 190 MIG are high quality welders at an affordable price.
"As standard for us at Forney, we took the demands of our customers very seriously," added Mahugh. "We now not only offer the new welders, but we have added a significant amount of value and features to the line that we currently have. By adding soldering and plasma cutting to the mix only makes it easier for our customer. They will know that they are getting a quality product at a great price."
To add even more value for the end user, the new machines expand into Plasma cutting with three new plasma models designed for a variety of users and applications and can cut sheet metal up to ¾" steel plate. The largest plasma cutter the Forney 700P can operate off either 230V or 120V allowing for ultimate versatility.
Refreshing the existing line, Forney Industries has added a number of improvements that make the tasks of welding for the do-it-yourselfer or auto enthusiast much easier. Since most MIG welding performance issues stem from poor wire feeding, Forney has upgraded its line to include a cast aluminum wire-drive system, dual geared idler and drive roll with de-spooler as well as expanded cabinet size. Additional value has been added by increasing the working area with a longer power cord and longer MIG gun and adding in a torch wrap to organize cables.
"I am proud that my family started this company almost a century ago and high quality has always been, and remains, paramount to all of us and our employees," added Anderson. It's the Forney promise that the products we offer to our users are of the highest quality and we offer our customers the products they need to remain successful." For ordering information, visit http://www.forneyind.com and http://www.amazon.com.
Forney Industries is one of America's oldest family-owned, welding and metal-working-product companies. Founded in 1932, the company began with the invention of the instant soldering iron and introduced the first publicly available arc welder in the 1940's. Today, the company offers nearly 6,000 products serving the automotive, hardware, farm & ranch and do-it-yourself markets. Headquartered in Fort Collins, CO, Forney Industries delivers products to all 50 states through its extensive customer-service network. Forney Industries is committed to providing the best product mix and most personal support services available today.