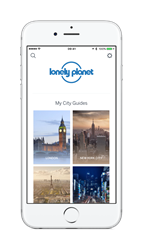 Lonely Planet's expert content, free of charge, curated and optimized to provide the best possible on-the-ground experience.
Nashville, TN (PRWEB) January 28, 2016
Lonely Planet is pleased to announce the launch of Guides (http://www.lonelyplanet.com/guides), a free new city guide mobile app, the perfect pocket travel companion when on the road, or when planning a trip. Available for both iOS and Android as of January 28, 2016, Guides will get users straight to the heart of a destination on their phone.
Guides is easy-to-use and meets the needs and expectations of travelers in 2016 and beyond. It offers Lonely Planet's expert content, free of charge, curated and optimized to provide the best possible on-the-ground experience. Guides enables travelers to:

Navigate with easy-to-use offline maps
Save places with simple bookmarking
Find the perfect activity with powerful filtering
Travel confidently with essential tips such as city highlights and details on where to eat and stay
Initially launching with 38 cities across six continents, Guides covers firm travel hotspots such as London, New York, Paris and Rome, as well as the likes of Cape Town, Rio de Janeiro and Moscow. The app includes an average of 1,000 points of interest per city and has "near-me" functionality, which shows users sights that are within easy reach of where they are, or sights that are close by to somewhere they plan on visiting.
As with all Lonely Planet products, Guides allows you to explore using Lonely Planet's best and freshest expert-curated content. Each city guide includes sights, highlights, details on places to eat, drink and shop as well as where to stay. Guides is a trustworthy travel companion that will help you make the most of your city trip.
With plans to add more cities soon, users can search within the app for any city in Lonely Planet's Global catalog. If there isn't an in-app guide for that city, users can request to have it added within the app – and be notified once it's available.
"We are very excited to launch Guides for mobile. We were one of the first travel publishers ever to have content available in the App Store and were a launch partner for the iPad," said Lonely Planet CEO Daniel Houghton. "We have taken the time to understand what travelers need and expect from a mobile product in 2016. Guides delivers Lonely Planet's expertly-curated content in a format that is contextual and intuitive on mobile devices and which utilizes the many great innovations of those platforms to deliver the best possible user experience."
​
Guides will launch with the following 38 cities, with more to follow soon: Amsterdam, Bangkok, Barcelona, Beijing, Berlin, Boston, Budapest, Buenos Aires, Cape Town, Chicago, Dubai, Dublin, Hong Kong, Istanbul, Kyoto, Las Vegas, London, Madrid, Montréal, Moscow, New Orleans, New York City, Paris, Prague, Rio de Janeiro, Rome, San Francisco, Seattle, Seoul, Shanghai, Singapore, St Petersburg, Sydney, Tokyo, Vancouver, Venice, Vienna, Washington, DC.
About Lonely Planet:
Lonely Planet is the world's leading travel media company, providing inspiring and trustworthy information for every kind of traveler since 1973. Over the past four decades, Lonely Planet has cultivated a dedicated traveler community and printed more than 130 million books in 13 different languages to most destinations on the planet. The Lonely Planet ecosystem also includes digital and mobile apps, a comprehensive ebook portfolio, 11 international magazines, an award-winning website, over 8.5 million followers on social media, and a new magazine in the US and the all-new Guides app, available January 28, 2016. Visit us at lonelyplanet.com, and join us on Facebook (facebook.com/lonelyplanet), Twitter (@lonelyplanet and #lp) and Instagram (instagram.com/lonelyplanet).