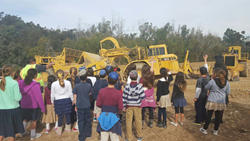 Every part of the solar project is an educator's dream.
(PRWEB) January 28, 2016
This week construction began for a solar power system at the Chabad Hebrew Academy in Scripps Ranch. Locally-headquartered solar firm, Sullivan Solar Power, is installing a 131,652-watt solar power system at the Jewish day school's 27-acre campus.
"Every part of the solar project is an educator's dream. From students being involved in soils testing to student awareness of their own consumption habits and the cause and effect of their energy use with a live energy usage display as they come onto campus," said Liz Earne, Principal of the Chabad Hebrew Academy.
The Chabad Hebrew Academy's finance committee did thorough research before selecting Sullivan Solar Power for the solar power installation. To fund the renewable energy project, the Chabad community gathered together in a quick matching campaign within an approximate 24 hours.
"The Chabad Hebrew Academy is investing in a brighter future for their students and our community," said Daniel Sullivan, founder and president of Sullivan Solar Power.
The Chabad Hebrew Academy is receiving a $96,090 California Solar Initiative rebate for the solar project.
"The energy savings offset by our solar installation will go directly toward a new scholarship for 30 deserving students to benefit from a private school education," said Josef Fradkin, Head of School of the Chabad Hebrew Academy.
The solar power system consists of 446 Sunpower 327-watt solar panels. Sunpower makes the highest efficiency solar panels commercially viable available today, and holds the world record for the highest efficiency silicon solar panel. Six SMA America Sunny Boy inverters, made in Colorado, are used to convert the direct current electricity from the solar panels to alternating electricity.
The solar power system is a part of the San Diego Gas & Electric (SDG&E) net energy metering program, where the school earns credits for the power they send back to the grid. While the California Solar Energy Industries Association (CALSEIA) estimates SDG&E's net metering program will expire in March 2016, the Chabad Hebrew Academy will be grandfathered into the current net metering program for 20 years.
"As we've begun the installation process, the Sullivan team has shown themselves to be at the highest levels of professionalism, care and sensitivity to our needs," said Wendy Leberman, Director of Admissions at the Chabad Hebrew Academy, "They are ahead of schedule and a true pleasure to work with."
For more information about the Chabad Hebrew Academy, visit http://www.chasd.org. For additional information about solar power or net metering, visit http://www.SullivanSolarPower.com.
About Chabad Hebrew Academy
The mission at Chabad Hebrew Academy is to provide a dynamic, student-centered program of academic rigor amid cross curricular instruction that challenges students to maximize their intellectual, social, physical, and spiritual potential. We aim to instill a strong sense of identity and a commitment to meaningful and balanced living, guided by Jewish ethics and values.
About Sullivan Solar Power
Sullivan Solar Power is a turnkey solar system provider that delivers solar electric projects from concept to completion. The company has installed more than 39,005,088 watts of solar power ranging from small-scale residential to large-scale commercial and municipal systems. Sullivan Solar Power was founded by Daniel Sullivan in 2004. Sullivan Solar Power has a longstanding A-plus rating with the Better Business Bureau, with no complaints filed since the business began. The firm has been named one of the fastest growing energy companies in the nation by Inc. Magazine and services all of Southern California. Regardless of project size and scope, Sullivan is committed to delivering the best products and the most qualified professionals to its customers. Visit http://www.sullivansolarpower.com for more information.
###