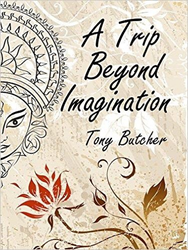 "This fascinating new book by Tony Butcher is a delightful story of one man's spiritual awakening." - Review form Lovereading.co.uk
(PRWEB) January 29, 2016
"This fascinating new book by Tony Butcher is a delightful story of one man's spiritual awakening. Butcher was working as a headmaster in Surrey when an 'inner calling' drew him to travel to India – Earth's spiritual centre – where he embarked on an incredible and life-changing journey of self-discovery. (He was in his seventies at the time – what an inspiration!)" – Review from Lovereading.co.uk
An inner prompting sent Anthony Butcher to India, the home of the timeless knowledge of the Veda. In its own symbolic language, the Veda explains that everyone is born with a nervous system capable of being refined and perfected with the right input.
Beyond the three states of waking, dreaming, and deep sleep, there exists a fourth state of transcendental consciousness, one which is responsible for the harmonic rhythms of the universe as a whole. In fact, man's nervous system is a miniature version of the greater cosmos and contains all the same ingredients in a latent form. All that is needed is contact with this underlying field of pure consciousness, easily accessible through simple mental techniques. The book is full of seemingly miraculous happenings, but all have a purpose.
In today's world, people are more in touch with their mobile phones than their own nervous systems. Just as quantum physics presents a very different view of the world from the classical physics of Newton, the same is true of consciousness. The more that consciousness is expanded, the more can be found.
Once started, transformation begins and it is truly "A Trip Beyond Imagination."
About the Author: Tony Butcher was born in 1938, the eldest son of a grocer in Southwest London. Married with three grown up children, he went from working quite a few jobs before finding his niche as a teacher helping troubled children. In 2001 on his first trip to India, he had a life-changing experience with the goddess Durga. His goddess/mentor led him to insights that the ancient masters used to conceal in folk tales. His book Yoga Consciousness in the Ancient Mystery Religions was published in 2007.
The compelling new book A TRIP BEYOND IMAGINATION is now available in Kindle for $2.99 and can be ordered through http://www.amazon.com.