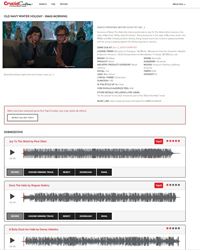 CrucialCustom helps advertisers find made-to-order music that fits their ad perfectly and sounds like a million bucks, all at prices that are budget-friendly.—CrucialCustom CEO Tanvi Patel
Los Angeles, Calif. (PRWEB) January 28, 2016
CrucialCustom today announced the launch of the first online custom music marketplace to provide advertisers with quality, affordable music that is curated by experts for effective and memorable ad campaigns. CrucialCustom connects music supervisors, agencies and brands to a vetted network of independent composers and musicians via a custom music licensing platform where they can solicit custom tracks for TV commercials, online and mobile video and industrial uses including corporate presentations and in-store videos.
With the exponential growth of online and mobile advertising—often fueled by programmatic buying—advertisers are delivering more video spots than ever before. Brands and agencies are under increased pressure to cut production costs across the board. However, quality music is more important than ever to the success of an ad. In a 2015 Nielsen study, commercials with some form of music performed better across four key metrics— creativity, empathy, emotive power and information power—than those without music. The CrucialCustom marketplace offers high quality custom music that fits client needs at price points that are up to 75% less than traditional custom sync licensing rates.
"Regardless of where video ads play, whether on TV, a website or social media, they all need to look and sound like big-budget spots," said CrucialCustom CEO Tanvi Patel. "CrucialCustom helps advertisers find made-to-order music that fits their ad perfectly and sounds like a million bucks, all at prices that are budget-friendly."
The CrucialCustom platform provides tools that streamline the process of finding the perfect track. Music supervisors or other project managers create a profile for their project on the site explaining the specs, turnaround and other details required. They can upload a video of their ad or project and receive made-to-order soundtracks from CrucialCustom's stable of vetted international artists and composers. Clients can make notes on a composer's track at the exact point on a waveform where they need a change. They can send instantaneous messages and even see exactly how the music works with the picture, as composers sync their tracks to the video that clients upload.
"CrucialCustom pairs an automated platform with a process that is curated by our experienced team to ensure that every track submitted to the marketplace meets high standards for production quality and is copyright safe," said Patel. "Because our licensing rates are consistent and transparent, producers and supervisors can feel peace of mind about how much they are spending to procure high quality music for their production."
Holiday Joy for Old Navy
CrucialCustom's first placement provided retailer Old Navy with a track for the company's celebrated holiday campaign featuring Portlandia duo Carrie Brownstein and Fred Armisen.
"After doing some research, we found there weren't that many options for the sound we were looking for," explained Malia Hall of Mothlight Music, one of the music supervisors on the project.
The CrucialCustom team helped Mothlight Music create an online project with all the specs. Composers had a strong reference track to go on but no visuals to guide them. A 24-hour turnaround—not an unusual timeframe for holiday ads—further complicated the proposal.
That didn't matter to David Choi, a prolific indie artist with nearly a million YouTube subscribers.
"I'm always into challenges," said Choi. "I'm not that competitive, but it did force me to be as creative as possible in a short amount of time. This was the first opportunity from CrucialCustom, and it went really smoothly."
The results impressed the team at Mothlight: "It was the first time I've done custom work with CrucialCustom. It was nice to hear the quality of the demos. Some really good songs came in. That's always refreshing," Hall noted. "They came in really fast, which is good because holiday ads work very, very fast."
CrucialCustom's platform helped get the work done at the required speed. "There's a lot of info that has to get passed along from us: the terms, the territory and license info, the creative direction," said Hall. "The website allows you to input all of that, instead of throwing it into a series of emails. It allowed us to translate what we needed to composers very quickly."
About CrucialCustom
CrucialCustom is the first custom music marketplace to provide advertisers and music supervisors with quality, affordable music curated by experts for effective and memorable ad campaigns. Headquartered in the heart of the music industry in Los Angeles, Calif., CrucialCustom has years of experience identifying, vetting and commissioning composers from a global network whose independent creativity can capture the hearts and minds of audiences. CrucialCustom allows advertisers to commission these eclectic composers for their exact needs. CrucialCustom's experienced team ensures that every track submitted to the marketplace meets high standards for production quality and is copyright safe. Over the past decade, parent company CrucialMusic has helped agencies and music supervisors license thousands of tracks for their ads, videos, tv shows and films. CrucialMusic has placed songs in ads for Toyota, Chrysler, Ralph Lauren, Old Navy and many others. http://www.crucialcustom.com