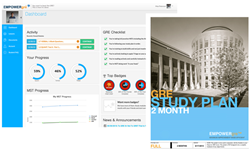 EMPOWERgre's co-founder, Rich Cohen, says that "students often tell us that they found our program more powerful than a $1400 on-site counterpart." He often hears "if only I had known (about your course) sooner. You guys could have saved me a fortune!"
Palo Alto, CA (PRWEB) January 30, 2016
Standardized tests such as the GRE, GMAT, and SAT play a critical role in deciding who gets admitted to competitive universities, such as Harvard, Princeton, or Stanford. These tests can even determine who receives large financial aid awards, often in the tens-of-thousands or even hundreds-of-thousands of dollars. Although some may loathe these well-established standardized tests, those tests continue to be a significant factor in the application process. However, the methods that students use to prepare for standardized entrance exams are undergoing a substantial change as more GRE test-takers switch to On Demand courses. EMPOWERgre is leading the way with its recently upgraded platform and affordable new $49 1 Month Study Plan.
EMPOWER Test Prep operates a successful On Demand GMAT course, widely cited in popular forum reviews as even more powerful than courses that are priced as much as ten times higher.
EMPOWER has released its On Demand platform for revised GRE, and there are three reasons why it's likely to radically change the way people prep for the GRE:
1) On Demand Is In Demand - On Demand course delivery (pre-recorded video based courses), such as Khan Academy's SAT prep platform, has become the most widely used course delivery mode according to available statistics. It's convenient, flexible and can be made considerably more affordable depending on the technology and the test-prep provider.
2) Affordable For All, Not Just the 1% - The On Demand system has long enabled companies to pre-package premium content at lower prices. Companies such as Kaplan readily charge $700 for its On Demand iteration if its popular GRE course. EMPOWERgre's On Demand course features premium grade instruction, but starts at only $49 for its 1 Month Study Plan. That price effectively eliminates the age-old trade-off of the best materials vs. the inexpensive materials.
3) Caliber of Instruction - While it might be easy to presume that the quality of On Demand test prep programs could be inferior to their on-site counterparts, many students say otherwise (according to user experiences shared on forums such as gradcafe.com). Although program quality can vary considerably depending on the company, established On Demand courses such as EMPOWERgre excel at presenting elite-level training in an On Demand format. EMPOWERgre's co-founder, Rich Cohen, says that "students often tell us that they found our program more powerful than a $1400 on-site counterpart." He often hears "if only I had known (about your course) sooner. You guys could have saved me a fortune!" That's a phenomenon virtually nonexistent just ten years ago - before the On Demand medium existed.
Mr. Cohen expects traditional on-site course volume to continue to drop over the next few years as older companies continue to transition more of their business from on-site to On Demand classes, and newer, more agile offerings go mainstream.
Conclusion
By combining affordability, greater convenience, and high caliber academics, the EMPOWERgre On Demand course model appears poised to dominate the GRE test prep space for the foreseeable future.
Although the admissions process is unlikely to become less competitive, the advantages of On Demand test prep might just help make the future look a little brighter for a larger group of grad school applicants.
EMPOWER Test Prep is an online education company based in Palo Alto, California, serving thousands of GMAT, and GRE students globally.