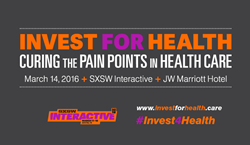 This first-of-its-kind event will create a breeding ground for innovation.
Portland, Ore. (PRWEB) January 28, 2016
Invest for Health, an inaugural health care event, will take place during the SXSW Interactive Festival on March 14 at the JW Marriott in Austin, Texas. Presented by Ascension Ventures, athenahealth, and Cambia Health Solutions, Invest for Health will bring together entrepreneurs, heath care executives, and venture capitalists to discuss some of health care's most pressing pain points—and the disruptive solutions necessary to solve them. This first-of-its-kind event will create a breeding ground for innovation, connecting entrepreneurs with investors, national health care organizations, and other industry stakeholders.
Topics at Invest for Health include:

Overcoming the stagnant nature of health care—an industry starved for innovation
How to incentivize providers of health care services to partner with innovators to find ways to increase practice profitability with improved operations and quality of care
Tips for developing better experiences for patients and health care providers
Call for Health Care Innovators: Networking Opportunity
Invest for Health will also feature 30-minute "networking breaks" between each speaking session. Startups at any stage of development are encouraged to apply online for the opportunity to network with Invest for Health speakers, thought-leaders, investors, and stakeholders. Companies who qualify will be notified by Friday, Feb. 26. For more information visit investforhealth.care/connect.
Invest for Health is an official event of the SXSW Interactive Festival, an annual five-day event featuring presentations and panels from the nation's top technology experts, innovators, and enthusiasts. Each year the festival gathers more than 30,000 people in the heart of Austin.
To stay updated on the latest line-up of speakers, agenda and networking opportunities available to entrepreneurs, visit InvestForHealth.Care.
About Ascension Ventures
Ascension Ventures, launched in 2001, is a subsidiary of Ascension, the nation's largest Catholic and non-profit health system. Ascension Ventures' role is to construct and manage a strategic portfolio of investments that deliver venture-level investment returns, have the potential to transform the healthcare industry and significantly enhance the experience for patients, their families and their caregivers. Ascension Ventures has three venture funds with $550 million in committed capital under management. Its limited partners include Adventist Health System, Ascension, Catholic Health Initiatives, Decatur Memorial Hospital, Dignity Health, Intermountain Healthcare, Mercy and Trinity Health.
About athenahealth, Inc.
athenahealth is a leading provider of cloud-based services for electronic health records (EHR), revenue cycle management and medical billing, patient engagement, care coordination, and population health management, as well as Epocrates and other point-of-care mobile apps. We connect care and drive meaningful, measurable results for more than 73,000 health care providers in medical practices and health systems nationwide. For more information, please visit http://www.athenahealth.com.
About Cambia Health Solutions
Cambia Health Solutions, headquartered in Portland, Oregon, is a health solutions company dedicated to transforming health care by creating a person-focused and economically sustainable system. Cambia's growing family of companies range from software and mobile applications, health care marketplaces, non-traditional health care delivery models, health insurance, life insurance, pharmacy benefit management, wellness and overall consumer engagement. Through bold thinking and innovative technology, we are delivering solutions that make quality health care more available, affordable and personally relevant for everyone. To learn more, visit cambiahealth.com or twitter.com/cambia.
About SXSW Interactive
The 23rd annual SXSW Interactive Festival returns to Austin from Friday, March 11 through Tuesday, March 15. An incubator of cutting-edge technologies and digital creativity, the 2016 event features five days of compelling presentations and panels from the brightest minds in emerging technology, scores of exciting networking events hosted by industry leaders and an unbeatable lineup of special programs showcasing the best new websites, video games and startup ideas the community has to offer. From hands-on training to big-picture analysis of the future, SXSW Interactive has become the place to discover the technology of tomorrow today. Join us in March 2016 for the sessions, the networking, the special events, the 18th Annual SXSW Interactive Innovation Awards, SXSW Accelerator®, the SXSW Gaming Expo, the SXSW Trade Show, the SX Health & MedTech Expo, SX Create, The Job Market, cross-industry conversations with attendees from SXSW Film and SXSW Music, and, most of all, the unforgettable inspirational experiences that only SXSW can deliver. SXSW Interactive 2016 is sponsored by Esurance, Mazda, Monster Energy, Capital One, Bud Light, Deloitte Digital, McDonald's, Ten-X and The Austin Chronicle.
For Ascension Ventures media inquiries, contact Johnny Smith at Johnny.Smith(at)ascension(dot)org or 314-733-6975.
For athenahealth, Inc. media inquiries, contact Holly Spring at media(at)athenahealth(dot)com or 617-402-1631.
For Cambia Health Solutions media inquiries, contact Christine Lynch at Christine.Lynch(at)cambiahealth(dot)com or 208-333-7839.