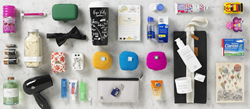 San Mateo, California (PRWEB) January 29, 2016
EssentialsGo, the leading one-stop source for essential products and luxury gifts for travelers and hospitality hosts, is excited to offer fans arriving in the San Francisco Bay Area for the 2016 Super Bowl, complimentary shipping on any travel necessities in its online store. For a limited time, all products offered by EssentialsGo will ship without charge anywhere in the U.S.
EssentialsGo's number one seller, the Travel Box 5 For Him, and other best-selling travel boxes can be purchased and shipped on a complimentary basis in advance of travel to the Bay Area, saving luggage space and any security check-in delays. Beauty, personal care, quality basics and gifts can be selected online, or a personal shopper can assemble a perfect selection of items for shipment.
EssentialsGo, which is headquartered in San Mateo, is proud to be part of the hospitality community hosting Super Bowl 50. As a special welcome to those planning to travel to the area for the game, EssentialsGo wants to offer easy delivery solutions of quality travel products, whether before travel or during guest's stays, to ensure anyone who arrives for the Super Bowl will have the most comfortable experience possible. Travelers can ship products in advance of their travels without charge, or if they forget to pack their favorite everyday item, contact EssentialsGo for same day delivery in the Bay Area.
Hospitality hosts are also eligible for complimentary shipping anywhere in the U.S., and can shop, purchase and ship travel boxes, basic necessities or gift items for guests' rooms prior to arrival. Hosts can shop online for individual products, bulk orders, or call customer service to discuss gift options.
Quality selection, a secure, 24-hour online shopping experience, and top customer care are what make EssentialsGo the best one-stop marketplace for travelers and hosts. With the surge of travelers staying in the Bay Area in February, EssentialsGo can help Super Bowl fans travel smart, travel light, and travel with ease.
For more information about EssentialsGo, visit http://www.essentialsgo.com.
About EssentialsGo
Founded in July 2015 and based in San Mateo, California, EssentialsGo is an on-demand travel essentials e-shop for people to get their everyday travel essentials delivered to their destination. Products sold range from national best selling products of recognized brands that travelers need, to popular products from luxury brands. EssentialsGo also offers customers a personal shopping service where people can submit their wishlist and a customized bundle is put together and delivered to them. Shipping is currently available within USA only. Same-day delivery is currently available in San Francisco Bay Area. EssentialsGo looks to add more city locations in the near future. For more information visit http://www.essentialsgo.com.