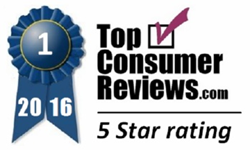 If you're looking for a reputable, customer oriented lawsuit funding company, Prime Case Funding is an excellent choice.
Overland Park, KS (PRWEB) January 29, 2016
TopConsumerReviews.com recently awarded their highest five-star rating to Prime Case Funding, an industry leader in lawsuit funding companies.
Lawsuit funding companies work to provide a no-risk loan for those that have a pending lawsuit and need cash now. Should the lawsuit settle with a payout, the lender would receive the loan amount, plus interest in return. If the lawsuit does not produce a monetary settlement, the borrower is not obligated to pay off the loan. Several factors are used to determine if a lawsuit funding company will be willing to risk the loan, but in short it's determined by the likelihood that the lawsuit will settle with a financial payout. The process of obtaining a lawsuit funding loan involves providing court documents, discussions with the lawyers involved, and more. A number of reputable lawsuit funding companies exist today to provide short term cash relief.
"Prime Case Funding has a strong reputation in the lawsuit funding arena. This is partially evident with their strong A- Better Business Bureau rating," said Brian Dolezal of TopConsumerReviews.com, LLC. "They work hard to process applications quickly, and customers can expect to receive payment in as little as 24 hours. If you're looking for a reputable, customer oriented lawsuit funding company, Prime Case Funding is an excellent choice. They set the bar high for other lawsuit funding companies."
To find out more about Prime Case Funding and other Lawsuit Funding companies, including reviews and comparison rankings, please visit the Lawsuit Funding category of TopConsumerReviews.com at http://www.topconsumerreviews.com/lawsuit-funding/.
About Prime Case Funding
Prime Case Funding is a national full service legal funding firm serving both attorneys and their clients. We understand your situation and we strive to tailor a financial solution that will meet your specific needs. Litigation financing can reduce financial stress and hardship that results from being in a lawsuit. Our service can empower you to "win the waiting game" and get the settlement you deserve.
About TopConsumerReviews.com
TopConsumerReviews.com, LLC is a leading provider of independent reviews and rankings of hundreds of consumer products and services. From lawsuit funding companies to debt relief programs and home security systems, TopConsumerReviews.com delivers in-depth product evaluations in order to make purchasing decisions easier.