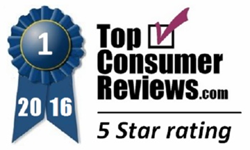 LegalZoom provides an effective and affordable option for creating a Living Trust from the comfort of your home.
Overland Park, KS (PRWEB) February 01, 2016
TopConsumerReviews.com recently awarded their highest five-star rating to LegalZoom, a company that guides the customer through the process of creating a Living Trust.
A Living Trust comes with many benefits. With a living trust, heirs may avoid the probate process and unnecessary expenses, last wishes are confidential and not supervised by the courts, and property may be transferred into the trust now while the owner is alive. Like many legal documents, Living Trusts are often created and maintained by an expensive lawyer. However, several legal document companies exist today that provide affordable online legal form service at a fraction of the cost. This allows the owner to dictate how assets should be managed upon their death.
"LegalZoom provides an effective and affordable option for creating a Living Trust from the comfort of your home," said Brian Dolezal, of TopConsumerReviews.com. "LegalZoom's easy to use website guides you through the process of making a Living Trust with simple questions. LegalZoom comes with an impressive track record and customers should feel confident that an actual lawyer will review their final Living Trust document. We found this company offers the most efficient and straightforward way to create a Living Trust."
To find out more about LegalZoom and other Living Trust service providers, including reviews and comparison rankings, please visit the Living Trust category of TopConsumerReviews.com at http://www.topconsumerreviews.com/living-trusts/.
About LegalZoom
LegalZoom is the nation's leading online legal document and filing service. Co–founded by attorney Robert Shapiro in 2001, LegalZoom offers a convenient and cost–effective way to take care of common legal needs. LegalZoom offerings include Wills, Living Wills, Incorporation, LLC Formation, Living Trusts, Powers of Attorney, Divorce, Small Claims, Trademarks, Patents, Copyrights and more. LegalZoom is not a law firm and does not provide legal advice or counsel.
About TopConsumerReviews.com
TopConsumerReviews.com is a leading provider of independent reviews and rankings of hundreds of consumer products and services. From Living Trusts to Online Divorces and Living Wills, TopConsumerReviews.com delivers in-depth product evaluations in order to make your purchasing decision easier.