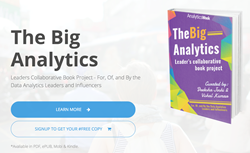 #TheBigAnalytics showcase what some of leading data and analytics leaders, influencers and practitioners sharing their perspective on facinating world of analytics - Vishal Kumar
Boston, MA (PRWEB) January 28, 2016
As data is gaining momentum, so is analytics. Many businesses and professionals still find themselves at the corner of its adoption. AnalyticsWeek with its mission of taking analytics to the 99% has worked on an ambitious plan. To aggregate leading thoughts from some of the data and analytics leaders, influencers and practitioners across various core fundamental learning sections: Strategy, Future of Analytics, Best Practices and Use cases.
Under the banner "The Big Analytics: Data Leader's Collaborative Book Project", AnalyticsWeek was able to capture 67 leading thoughts that are crucial for tomorrow's data driven businesses and professionals. The Big Analytics book will be available to subscribers using various distribution platform such as Amazon book marketplace starting Feb 4th.
Today, on #GetAnalyticsDone day (last Thursday of the month), AnalyticsWeek is making this book available for free on signup. If interested the user will visit http://thebiganalytics.com and signup for the mailing list and we will send the book to all the users signed up.
As the book is mirroring the AnalyticsWeek's mission, of taking analytics to the 99%, we are seeking to get the distribution of the book to as many people as possible. So, we urge the reader to signup for the book and share the link to as many people as possible.
About The Big Analytics Book:
A living book project that contains thought leadership contribution from industry leaders, influencers and practitioners. The book will be re-published annually with coverage from current leaders and influencers. The Big Analytics Book is meant for data science professionals, enthusiasts, leaders and influencers.
About AnalyticsWeek:
AnalyticsWeek is a global community of 150+ businesses and 30000+ data science professionals. In support of their mission of bringing "Analytics to the 99%," AnalyticsWeek works with their community members and businesses partners to roll out initiatives to bridge the talent and knowledge gap.