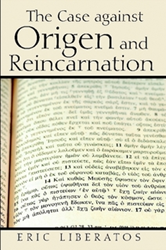 NEW YORK (PRWEB) January 29, 2016
In "The Case against Origen and Reincarnation" (published by Lulu), author Eric Liberatos highlights the condemnation of Origen, one of the most important Christian thinkers between Paul and Augustine, due to his belief in reincarnation and the dogmatism and politics in the early Christian church.
Liberatos says many early church fathers accepted reincarnation, but the church condemned them and reincarnation because the concept would have weakened the growing power of the church.
"The majority of the population in the U.S. are Christians, and as Christians, they are interested in Christian theology and the early history of the church," says Liberatos about the appeal of his book for readers. "Also, millions of Christians around the world believe in reincarnation even though it's a belief incompatible to Christian dogma… this is a book for those who want to understand why reincarnation and Origen were seen as threats to the increasing power of the early church."
Liberatos adds, "A lot of research has been conducted concerning Origen's life and doctrine but very little has been written about his condemnation. Also, as far as I know, no book exists with the basic tenet being the condemnation of Origen, and there is no book title that places Origen and reincarnation in the same sentence."
"The Case against Origen and Reincarnation"
By Eric Liberatos
Hardcover | 6 x 9 in | 114 pages | ISBN 9781483441504
Softcover | 6 x 9 in | 114 pages | ISBN 9781483441481
E-Book | 114 pages | ISBN 9781483441498
About the Author
Eric Liberatos was born and raised in Queens, N.Y. He spent more than 10 years in Athens, Greece, but has resided in New York for the past 15 years. Liberatos is an active member of the American Historical Association and has taught social studies for the New York City Board of Education. He earned a bachelor's degree in psychology from Hunter College and a master's in history from Queens College. This is his first book.
Lulu empowers people of all ages to explore and express their interests, passions and expertise through books, photography and art. Since introducing self-publishing in 2002, Lulu has empowered creators in more than 225 countries and territories to produce nearly two million publications. Lulu Jr. allows children to become published authors, encouraging creativity, strengthening literacy and building self-esteem. Picture.com offers professional photography of collegiate and professional sports, memorable and historic events, fine art and home décor. For more information, please visit lulu.com.