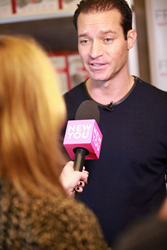 I only pursue things that have personally affected me like quitting smoking and hair loss. The foundation for inventing any new product is deeply rooted with the belief this new innovation is going to improve the quality of many peoples' lives.
Los Angeles, CA (PRWEB) February 08, 2016
A man who has struggled to quit smoking, a man who has struggled with hair loss – Craig Nabat, CEO of Freedom Laser Therapy, was determined to find solutions to his problems – and he did. Now Nabat, a serial entrepreneur featured as the October 2015 cover story of Inventors Digest is ready to introduce his breakthrough inventions to the world and better people's lives. His own experience with nicotine addiction led to the creation of a nicotine-free and drug-free method to quit smoking fast. His latest innovation – the iRestore Hair Growth System – is a FDA-cleared device to treat hair loss and promote hair growth in the comfort of one's own home.
A former smoker, Nabat used low-level laser therapy to overcome his nicotine addiction. Having defeated his own smoking addiction, he made it his life's mission to help others break free from their nicotine addiction. This led to the establishment of Los Angeles-based quit smoking clinic Freedom Laser Therapy in 2003. Since then, more than 10,000 smokers have been treated in a clinical setting for their smoking addiction. Now Nabat has re-engineered similar principles that were successful in the clinic and introduced them to the world in the form of the home-use Freedom Quit Smoking System.
The Freedom Quit Smoking System offers a revolutionary answer for smokers because it allows them to quit smoking without nicotine, drugs, or side effects. The stop smoking kit features a mind and body entrancing Relaxation Headset and a Craving Relief Spray that help smokers overcome the symptoms of nicotine withdrawal. Nabat strives to enlist Hollywood celebrities to educate the world that smoking is a thing of the past. His latest attempt was at GBK's celebrity gifting suite for the Golden Globes.
Nabat's newest innovation is one that will no doubt change the lives of 80 million men and women suffering from hair loss. The iRestore Laser Hair Growth System takes advanced laser technology from the clinical setting and makes it available and affordable to consumers for home use. iRestore uses pain-free lasers and red luminous optical LEDs to stimulate miniaturized and dormant hair follicles, providing a drug-free method to combat premature hair loss. The hands free device can be used to improve the overall appearance for almost anyone suffering from early stages of hair loss. In addition, iRestore can be utilized to maintain results after a hair transplant surgery and improve hair condition. For individuals who currently use drug based hair loss treatment methods like the topical spray Minoxidil or pill Finasteride, the iRestore can be used in conjunction with them to maximize results.
On January 8, 2016, Freedom Laser Therapy launched the newly FDA-cleared iRestore Laser Hair Growth System at the GBK Golden Globes celebrity gifting suite. Hear what Hollywood celebrities like Anthony Anderson and Viola Davis have to say about the innovative technology.
Having already been profiled by The Doctors TV, Access Hollywood, Huffington Post, VH1, TLC, Fox News, and CBS, Nabat remains driven to achieve his mission to better the world with more life-changing inventions. For now, the world will have to settle for his stop smoking and hair loss solutions. The Freedom Quit Smoking System and iRestore Laser Hair Growth System are available online and soon through mail order catalogs, retailers, and clinics near you.
###
About Freedom Laser Therapy
Freedom Laser Therapy is the leader in high-tech laser therapy product development. The Los Angeles-based company develops and markets products that improve consumer health and beauty. Freedom's latest products include the FDA-cleared iRestore Laser Hair Growth System and the Freedom Quit Smoking System.