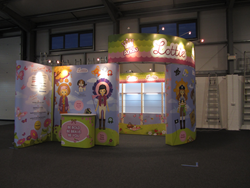 Poole, Dorset (PRWEB UK) 28 January 2016
Long standing customer of Quadrant2Design, Lottie Dolls, will be returning to the world-renowned Spielwarenmesse (Nuremburg Toy Fair) at the end of January 2016.
After huge success at the show in 2015, as well as great outcomes at other exhibitions around the world through partnership with distributors, the company will be returning to the world's biggest dedicated toy trade fair, Spielwarenmesse.
With more than 2,800 exhibitors from 60 countries, and over 70,000 visitors in attendance, Spielwarenmesse is the ultimate exhibitions for the toy industry. With over 1 million products on display, the show is a hubbub a leading experts, buyers, and designers, all of whom are looking for the next best toys and games to bring to the market.
Lottie Dolls are renowned around the world for their highlighting of positive body image awareness, connections with STEAM subjects, promoting reading and education among young children, and playful, engaging, and fun demeanour.
With both male and female dolls available, Finn and Lottie have genuine, child-like bodies and proportions, and they engage and encourage exciting and empowering activities that other popular doll brands do not, such as palaeontology, astronomy, technology, equestrianism, and athletics and outdoor sporting activities.
This year's Spielwarenmesse will see Lottie Dolls' exhibition stand showcasing five new ready-to-retail products, including two award winning STEAM dolls; Stargazer Lottie and Fossil Hunter Lottie.
Stargazer Lottie is all ready for exploring the galaxies on cold winter nights, with her warm clothing, solar system collector's cards, and telescope with tripod. This special edition 'Gold Collection' doll was created in collaboration with the European Space Agency. Another special edition 'Gold Collection' doll is Fossil Hunter Lottie. With her dig-ready clothes, specialist tools, and fossils in hand, Fossil Hunting Lottie is ready to dig for the past alongside her group of fellow female archaeologists, palaeontologists, and geologists, TrowelBlazers, with whom she was created in collaboration with.
Lottie Dolls will be showcasing their ever-growing range of engaging dolls, and accessories, with the help of their Prestige Exhibition Stand from Quadrant2Design. A modular, portable design, the Prestige Event System allows the Lottie Dolls team to promote their products around the world, and the high-quality, seamless effect graphics ensure that they stand out at every show.
To discover more about Lottie Dolls, visit http://www.lottie.com, tweet @Lottie_dolls, or visit stand E-15 in Hall 1, at Spielwarenmesse, which takes place at Messe Nuremburg from 27th January – 1st February 2016.
To register for tickets to Spielwarenmesse, visit http://www.spielwarenmesse.de.
For a complimentary design consultation from Quadrant2Design, or to find out more about the Prestige Event System, contact designteam(at)quadrant2design(dot)com.