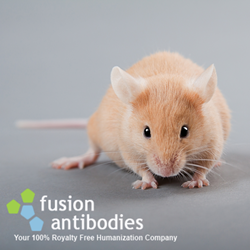 Belfast, United Kingdom (PRWEB UK) 29 January 2016
UK Contract Research Organisation Fusion Antibodies has recently published an article in the January 2016 edition of European Biopharmaceutical Magazine, discussing why Antibody Humanization is important in the 21st Century.
The technology of monoclonal antibodies was pioneered by César Milstein and Georges Köhler, who in 1975 successfully fused immortal myeloma cell lines with antibody producing B-cells to produce hybridomas. In 1986 the first monoclonal antibody (a complete, unmodified mouse antibody) therapy was approved for use in humans and is one of only four fully murine therapeutic mAbs to be approved for clinical use. Murine antibodies have a short therapeutic half-life because they are recognised by the patient immune system as foreign proteins resulting in a human anti-mouse (HAMA) response. Since 1986 there has been a variety of antibody engineering techniques employed to reduce immunogenicity and the HAMA response (such as chimeric antibodies).
Humanization is a process by which xenogeneic antibody sequences are modified to reduce this immunogenicity and several approaches have been developed since the first approved humanized antibody in 1997 (Daclizumab). Since the 2002 approval of Adalimumab generated by phage display technology and the 2006 approval of Panitumumab there have also been two technologies capable of producing fully human antibodies.
The article discusses these three techniques; CDR grafting, phage display and approaches using transgenic mice to attempt to answer the question: Why do we still need to humanize murine antibodies in the 21st Century?
For the full article please visit Fusion Antibodies website at: https://www.fusionantibodies.com/blog/2016/january/ebr-antibody-humanization-article
About European Biopharmaceutical Review
European Biopharmaceutical Review (EBR) is a quarterly magazine dedicated to the biopharmaceutical industry and biotechnology sector as a whole. EBR provides detailed articles and reviews combined with insightful interviews and opinion pieces. EBR offers the European biopharmaceutical market a dedicated platform for the communication and sharing of information both across Europe and worldwide.
About Fusion Antibodies
Fusion Antibodies; a UK based life science company, with innovative technologies and world-class expert services for antibody drug discovery, are specialists in production of High Quality Humanized Monoclonal Antibodies and Antibody Engineering Projects. With 15+ years of experience in the medical research industry, including two Antibodies in clinical and pre-clinical trials, Fusion Antibodies have extensive experience in accelerating therapeutic drug research towards the clinic.
For more information about the company visit their website at https://www.fusionantibodies.com/