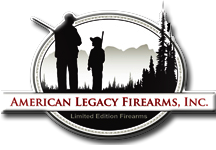 "We are a company that invests in our nations Heritage, through the institutions we support and handcrafted products we produce. The BlueDef Tour truly embodies the Spirit of America."
Ft. Collins, CO (PRWEB) January 29, 2016
American Legacy Firearms is proud to announce they are the official gun sponsor of the Professional Bull Riders (PRB), BlueDef Tour (BDF). The fact that the sport embodies the American spirit compelled Jim Rodriguez, American Legacy Firearm's Marketing Director, to consider the sponsorship: "We are a company that invests in our nation's heritage, through the institutions we support, and the handcrafted products we produce. The Blue Def Tour truly embodies the spirit of America".
The family owned company, founded in 2004 in Ft. Collins, Colorado, is the leader in producing quality engraved firearms. They strive to bring consumers a product that is not only a piece of art, which can be proudly displayed on a wall, but one that it is fully functional and affordably priced. American Legacy Firearms employs approximately 20 people, many of whom enjoy hunting and outdoor sports with their friends and family.
American Legacy works with the most well-known names in manufacturing: Ruger, Henry, Itaca, Winchester, Colt, Kahr, and Mossberg. They also directly support both the National Rifle Association and the Second Amendment Foundation. American Legacy Firearms is known for donating guns to different groups for use in raffles, giveaways, and fundraising, especially those fighting to maintain Second Amendment Rights.
PBR is referred to as the "toughest sport on dirt", a grueling sport with deep roots in American culture. The events feature the top bull riding stars and bucking bulls in the world. The sport made history in Colorado when the PBR was formed 20 years ago with 20 bull riders who broke away from the traditional rodeo circuit. In 2015 the PBR was acquired by WME | IMG, the global leader in sports, entertainment, media and fashion.
"There was an immediate affinity for this sponsorship." Jim noted. "The cowboy is one of the most important images in our history, and played a major role in the growth and success of our nation. We proudly produce an American Cowboy Rifle, so we welcome the opportunity to sponsor the PBR Blue Def Tour!"
The BlueDef Tour will visit more than 20 great cities across the U.S., including Denver, Colorado; Reno, Nevada; Wichita, Kansas; and Salt Lake City, Utah. For a full schedule and/or additional information on the BlueDef Tour, visit: BlueDEF Tour Schedule
American Legacy Firearms is excited to help bring this sport to estimated 3 million people who attend the PBR events each year! Professional Bull Riders, Inc and American Legacy firearms are a perfect match, sharing a similar love of the American Culture and the desire to provide Americans an opportunity to visit and revisit the heritage of this great country.
For additional information visit American Legacy Firearms
About American Legacy Firearms
American Legacy Firearms opened its doors in 2004 and has become one of the leaders in the engraved firearm industry. They deliver quality engraved firearms at an affordable price. Their main office is located in Fort Collins, Colorado and is a family owned company with 45 employees. They are proud to work with multiple firearm manufacturers, including well-known names such as Ruger, Henry, Ithaca, Winchester, Colt, Kahr, and Mossberg. They also worked directly with two of the largest gun-rights organizations in the country: the National Rifle Association and the Second Amendment Foundation. They have donated many of their guns in raffles and for fundraising within different organizations. American Legacy is always glad to help the people and groups that fight to support and defend our Second Amendment rights. Their continuing goal is to support and encourage the love of firearms and they are constantly looking for new ideas and new ways to celebrate the things that make us all proud to be Americans- our families, our friends, and our country. For more information visit American Legacy Firearms.com or Facebook