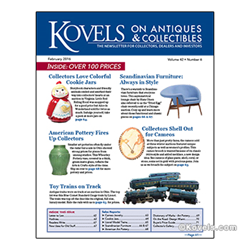 Cleveland, Ohio (PRWEB) January 29, 2016
The Kovels on Antiques and Collectibles February 2016 newsletter broached the subject of antique cameos sold at winter auctions. See pictures and prices of antique cameo pins, pendants and a bracelet with women's profiles and other images that ranged from $83 for a pin picturing a woman wearing an applied diamond necklace to $4,375 for pendant picturing a Roman noblewoman. More than 150 vintage cookie jars shaped like storybook characters and friendly animals auctioned in Virginia, where Little Red Riding Hood was snapped up for a good price, but Alice in Wonderland brought twice as much. See sweet cookie jar pictures and information in Kovels' February newsletter. Antique model trains were on track at an Ohio auction. Top lot was a Lionel Blue Comet five-piece train set that looked just like the full-sized luxury original and sold for $1,380. Other Lionel train cars and accessories are in Kovels' latest issue.
Midcentury Scandinavian designers are known for sleek, functional and well-made furniture. Kovels' February newsletter pictures some classics that auctioned in Chicago, including an Arne Jacobsen Egg Chair, a Hans Wegner lounge chair, a Finn Juhl sofa and more. And small American art potteries often fly under the radar, but an Ohio sale drew strong prices for pieces from some unsung studios. Rhead, Shearwater, George Ohr and Harris Strong are among the potters represented in Kovels' February issue.
Terry Kovel goes "on the road" to Art Basel and Design Miami and writes about her chat with Wendell Castle, furniture designer and sculptor, and the latest exhibits and design trends. The popular illustrated Collector's Gallery answers readers' questions about a Mail Pouch tobacco advertising sign, table with mother-of-pearl inlay, miniature dolls in peanut shells and vintage sewing patterns. February's Dictionary of Marks focuses on American art pottery. And more than 70 antiques and collectibles are listed in the Buyer's Price Guide.
Kovels on Antiques and Collectibles is available as a print subscription or as a digital version that is part of the Kovels.com Premium subscription.
Terry Kovel is America's foremost authority on antiques and collectibles. She is the well-known columnist and author of more than 100 books on antiques and collecting. With her daughter, Kim Kovel, she co-authors the best-selling annual Kovels' Antiques and Collectibles Price Guide. The 2016 edition is now available at Kovelsonlinestore.com and local bookstores. They will discuss antiques and collectibles topics with accredited media. Photographs are available. Contact pr(at)kovels(dot)com.
About Kovels.com
Kovels.com, created by Terry Kovel and Kim Kovel, provides collectors and researchers with up-to-date and accurate information on antiques and collectibles. The company was founded in 1953 by Terry Kovel and her late husband, Ralph. Since then, Kovels' has written some of America's most popular books and articles about antiques, including the best-selling Kovels' Antiques and Collectibles Price Guide, now available in its 48th edition. The website, Kovels.com, online since 1998, offers more than a million free prices, and includes a free weekly email, "Kovels Komments." It gives readers a bird's-eye view of the market through the latest news, auction reports, a Marks Dictionary, readers' questions and answers and much more.
Contact Information:
Liz Lillis
216.752.2252
Pr(at)kovels(dot)com