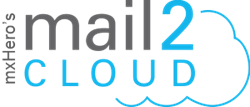 MxHero achieved a perfect level of service provision by combining best of breed technology with robust cluster architecture
San Francisco, CA (PRWEB) January 29, 2016
MxHero, leading developer of email and cloud storage convergence technology, provided its acclaimed Mail2Cloud SaaS service without interruption in 2015. The service allows organizations to leverage popular cloud storage services like Box, Dropbox, Google Drive and OneDrive for powerful email collaboration, security and archiving.
MxHero achieved a perfect level of service provision by combining best of breed technology with robust cluster architecture. MxHero's Mail2Cloud is operated from Amazon's highly popular AWS cloud infrastructure. The service is used by approximately 500,000 active users and processes more than a million emails per day.
"The AWS platform has greatly facilitated our ability to provide uninterrupted service to our business users. Email is a critical part of our clients' work process and providing perfect availability is our goal. The flexibility and agility of the AWS platform combined with our team's years of operating experience and the resilient and scalable architecture of the mxHero platform was the magic formula contributing to this proud achievement," states Bruno Santos, COO of mxHero Inc.
For more information about Mail2Cloud visit http://mxhero.com/email-archiving
About mxHero 
About mxHero mxHero is a company dedicated to enhancing email for businesses and end user. mxHero's products and services gives companies, service providers and end users powerful new ways to control, use and analyze email. Apps developed for mxHero's platform work with any email management program, including Gmail and Microsoft Exchange. Information on all of their Mail2Cloud product line can be found at http://www.mxhero.com. More than 3,600 companies with 800,000 users have added mxHero to their email. To learn more about mxHero visit http://www.mxhero.com. Find mxHero on Twitter: @mxheronet and Facebook: mxHero.net