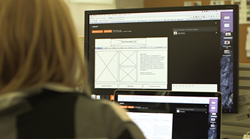 Slickplan was born out of a client need to solve the challenge in creating website sitemaps, making diagrams, and gathering content in a collaborative and professional manner," said Ian Lawson, Slickplan Founder and CEO
Dayton, OH (PRWEB) February 02, 2016
Slickplan.com launches added functionality in pre-CMS website planning. With three new tools, Slickplan will complement its suite of already-popular website planning and sitemap building systems. Today, Slickplan introduces critical tools for individuals and teams who need the ability to do serious planning of website architecture before design and coding begins. Slickplan's major update launch is designed to give users an even more robust platform on which to perform website structure planning, user flow diagramming, content planning, and mockup sharing for successful outcomes.
New Slickplan Tools:

Content Planner - Gather and plan content to include on-page media, engaging text, valuable SEO components, and HTML style classes and IDs.
Diagram Maker - Create user flow diagrams with UX expert JJ Garrett's website development symbols library to plan and optimize user experience.
Design Mockups - Share mockups including wireframes, graphics, images, logos, and content.
Updated Sitemap Builder - Work with tons of new features in this information architecture app including seamless integration with our tools, added collaboration and communication features, interface updates, and more.
"Slickplan was born out of a client need to solve the challenge in creating website sitemaps, making diagrams, and gathering content in a collaborative and professional manner," said Ian Lawson, Slickplan Founder and CEO.
Slickplan serves to resolve the challenges that arise when teams need seamless collaboration and fast solutions to submit to stakeholders and clients. Creating a successful website involves pre-planning, efficiency, and effective tools that produce professional results. Website planners demand more rapid prototyping for website architecture along with easy means to share project progress with teams and clients in a professional looking view within the browser. They need the ability to quickly iterate on content plans, ideas, and scenarios and unify internal or client comments and feedback during the planning phase. With Slickplan's new website planning functionality and visual sitemap generator, users gather and plan a website in one unified place.
Ian further explains, "We needed a tool to save us time and sanity in our own business, so we created Slickplan. This added suite of website content planning tools will not only further enhance Slickplan subscriber usability but will also offer website audiences a more intuitive website experience. It's that simple."
This Slickplan launch will offer business owners and startups the ability to streamline agency or team planning. It is easy to add contributors, manage permissions, and create a valuable workflow process from within the app. The program is easy to use, and there are extensive help files in the Slickplan knowledge base along with email and phone support options. Users can export visuals to a variety of file formats—and export website structures and content plans including pages, menus, and content directly to CMS platforms including WordPress and others.
Slickplan's sitemap builder and website planning tools will satisfy new and current users alike, with competitive pricing in four tiered plans to choose from: Basic, Professional, Team, and Agency. Users select a tailored plan based on the number of users, projects, and storage needs of the organization. These new plans are optimized to meet all types of users starting at only $9.99 per month for site mapping and $29.99 per month for full access. Users can subscribe with a discounted annual rate. A 30-day Slickplan trial is offered for new or existing website planners ready to improve their processes in the planning of personal, business, or client websites.
Slickplan's website planning functionality is made for any organization that requires intuitive planning for a successful website. Those who benefit include consultants, bloggers, freelancers, website design professionals, internal design teams, and project managers that are part of large or small agencies, organizations with very large websites, and organizations with complex website requirements. Slickplan supports a vast number of industries, companies, and people working on every type of project.
About Slickplan
Slickplan, by tech company Awmous, LLC, launched in 2009 to offer intuitive tools and support for planning powerful, effective websites. Slickplan is a robust site mapping and web planning tool with over 130,000 registered users. Slickplan is committed to modern website development and architecture to support a better Internet, and this team provides the tools for website builders to accomplish this goal. Slickplan supports over 25+ Fortune 500 companies and has experienced substantial growth in the past few years. The company stands behind empowerment, efficiency, and energy to encourage customers to use their creative energy in producing effective, successful websites.