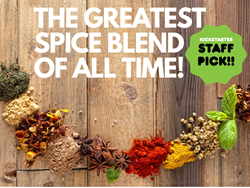 (PRWEB) January 28, 2016
Foodies looking for more delicious spice in their lives can get a fusion of new flavors that will have their mouths sizzling with delight. Red Jerk is a bold, new flavor that celebrates the historic cultures that inspired it.
Red Jerk is a master spice blend perfectly fusing the unique, distinct Moroccan Ras El Hanout spice blends with Jamaica Jerk — a revered and celebrated spice blend from the Caribbean — for an amazing spice rub that will enchant the moment that pouch is opened!
Red Jerk is a culmination of over 27 freshly ground herbs and spices with an enchanting sweet fragrance, exotic savory flavors, with a touch of heat. Only all natural spices and pinch of sea salt are included in this awesome blend. Red Jerk is a creation of new flavors that honor the wondrous cultures that inspired it.
Just a few days remain to join the Red Jerk – A Fusion of Jamaican Jerk & Moroccan Ras El Hanout Kickstarter project. Red Jerk will debut at the 2016 Fancy Food Show in New York City.
https://www.kickstarter.com/projects/spicecrafters/red-jerk-caribbean-and-north-african-fusion
Spice Crafters LLC is a boutique flavor studio specializing in hand crafted spice blends and custom seasonings. The products released by Spice Crafters are truly an expression of art, culture, and creativity. Founder, Michael Anderson believes in pushing the boundaries of spice craftsmanship by introducing new flavor profiles to the market with spices from around the world while culminating a fusion of cultures. Michael is creatively pushing the envelope on new flavors and creating new traditions.