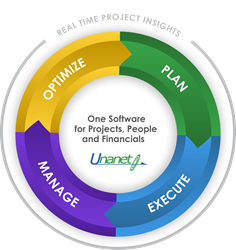 The days of the spreadsheet quagmire endured by professional services firms are over. - Fran Craig, CEO & Founder, Unanet
Dulles, Virginia (PRWEB) January 29, 2016
With the Federal Government spending approximately $450 billion per year on contracts, government contractors are responsible for a very wide range of large and small projects, all requiring disciplined and efficient project management and accounting to meet demanding performance goals.
Government contractors have not been well served recently with information systems to support their needs, relying on legacy accounting software and a patchwork of disparate systems and spreadsheets to manage projects and financials. General-purpose accounting software companies had tried to enter the market, but with limited success as they lacked the industry-specific capabilities required related to support for DCAA compliance, Federal Travel Regulations and the demands of Federal contracting. Handling these requirements in general purpose software means a reliance on customization or spreadsheets, which create errors and extra manual effort, leading to inefficiencies and increasing the cost of compliance.
Unanet had established a strong reputation and customer base of over 1000 organizations satisfying the needs for project management and project accounting over the past decade. With the extension of Unanet to support financials, released in July 2015, Unanet Financials satisfies the needs of the government contracting industry by producing a software solution for projects, people and financials in one integrated system. The adoption by the government contracting community has been rapid with more than 100 organizations large and small choosing Unanet Financials to replace legacy systems.
Fran Craig, Unanet Founder and CEO commented, "By avoiding the need to integrate disparate software products and reconcile transactions between different systems, businesses can operate with transparency and efficiency. The days of the spreadsheet quagmire endured by professional services firms are over".
In addition to a single software solution, developed wholly in the USA, Unanet recognizes that customers need more than technology and has built an experienced support organization. The Unanet services and support team includes experts in Federal contracting and accounting, are hyper-responsive and US-based, bucking the trend to off-shore support and development overseas to cheaper but less knowledgeable resources. Unanet is also supported by a large and expert partner ecosystem who recognize how Unanet Financials can benefit their customers.
Fran Craig commented "Government contractors are choosing Unanet over alternatives for a multitude of reasons including: the desire for one source of truth with real-time reporting and analytics so their managers can receive the information they need, when they need it; and the need for traceability and to lower the cost of compliance". Fran continued "Removing the need to manage transactions and spreadsheets means that financial teams and managers can shift their focus to transforming and growing their business."
About Unanet: Unanet is a leading provider of Cloud and On-Premise software for project-based organizations. Unanet delivers skills management, resource planning, budgeting & forecasting, time & expense reporting, billing & revenue recognition, project management analytics and dashboards, and integrated financials with AR, AP, GL and cost pool calculations. Over 1,000 organizations rely on Unanet to maximize staff utilization, reduce administrative costs by 90%, improve invoicing by 10X, and support forward decision-making for improved operations.