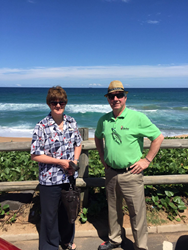 In 2014 South Africa had 7 franchises, at the end of 2015 they have reached an amazing 15 franchises
(PRWEB) February 03, 2016
President, Bill Buckley, recently returned from a trip to South Africa, where Coffee News® is growing at an amazing rate. In 2014 South Africa had 7 franchises, at the end of 2015 they have reached an amazing 15 franchises. Trish Hardy, the franchisor in South Africa, has gone above and beyond to almost double the size of Coffee News® South Africa in the last year. Hardy held a one-day seminar for all franchisees and potential franchisees to meet and greet with Buckley, allowing them to ask questions and gain more Coffee News® knowledge to continue to grow the South Africa market. Franchises in South Africa are currently located in Gauteng, Mpumulanga, and Kwazulu Natal.
About Coffee News®
Coffee News® is a single-page, weekly publication filled with trivia, jokes, horoscopes and other fun, lighthearted content. The publication is distributed free to restaurants and other waiting areas.
Established in 1988, Coffee News® was developed by founder Jean Daum, an expert in subliminal and super-learning techniques in advertising.
Recognizing the need for restaurants to provide patrons with something to occupy their time and a way for small and medium-sized businesses to affordably advertise locally, Daum developed Coffee News®. Today, there are nearly 800 franchises in 18 countries worldwide with an estimated weekly readership of over five million.
For more information, visit http://www.coffeenews.com.