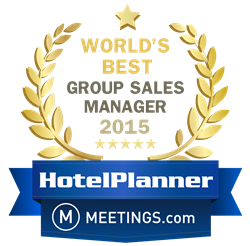 We are excited to recognize the top sales managers in the world who deliver on all points giving clients the dependability and high standards, competitive pricing and perks that drive bookings
London, UK (PRWEB) January 29, 2016
HotelPlanner.com and Meetings.com, the leading online providers of group bookings for hotels and meeting space, announces its top 50 group sales managers worldwide for 2015. The list recognizes individual sales leaders who had an all-star year booking group business in Asia, Canada, Caribbean, Europe, Mexico, and South America through HotelPlanner.com and Meetings.com. These top performing sales managers were chosen based on delivering excellent client services, favorable rates, and quick response times.
"We are excited to recognize the top sales managers in the world who deliver on all points giving clients the dependability and high standards, competitive pricing and perks that drive bookings," stated Tim Hentschel, CEO of HotelPlanner.com. "These sales managers and their teams are active, responsive, and give priority to both HotelPlanner and Meetings.com clients."
The top 50 best sales managers in this year's ranking include:
Asia:
Avista Hideaway Resort & Spa Phuket, Thailand – Somyot Yasavudhi
Grand Hyatt Bali, Indonesia – Fenny Juliana
Hyatt on the Bund, China – Tiky Tong
Le Grove Serviced Apartments, Singapore – Sarah See Toh
Naumi Liora, Singapore – Poom Monterde
Novotel Taipei Taoyuan International Airport, Tawain – Maggie Lee
Park Plaza Bangkok Soi 18, Thailand – Nattha Sriphaibul
Rembrandt Hotel Bangkok, Thailand – Futoshi Kimura
The Excelsior Hong Kong, China – Kitty Lo
The Westin Siray Bay Resort & Spa Phuket, Thailand – Praisie Huang
Canada:
Bond Place Hotel, ON – Marisol Pena
Comfort Inn Toronto Northeast, ON – Heather Dougan
Courtyard by Marriott Niagara Falls, ON – Rosemary Gentilcore
Four Points by Sheraton Niagara Falls Fallsview, ON – Julie Tanos
Hotel Faubourg Montreal, QC – Jacques Mongeon
Hyatt Regency Toronto, ON – Mable Law
Pinnacle Hotel Vancouver Harbourfront, BC – Elisa Vincenzi
The Banff Centre, AB – Amelia Flaherty
Travelodge Montreal Centre, QC – Vincent Baily
Caribbean:
Hyatt House San Juan, Puerto Rico – Laura Reyes
Hyatt Place San Juan/Bayamón, Puerto Rico – Shirley Rosa
Majestic Colonial Punta Cana All Inclusive, Dominican Republic – Aurelio Sanchez
Majestic Elegance Punta Cana Luxury All Inclusive, Dominican Republic – Aurelio Sanchez
Europe:
Alliance Hotel Porte De Saint Ouen, France – Aurelien Landeau
Avalon Hotel, Latvia – Una Pilmane
Best Western Plus Hotel Steglitz International, Germany – Alexander Stolle
Courtyard by Marriott Stockholm Kungsholmen, Sweden – Peter Augustinsson
Doubletree by Hilton London Hyde Park, UK – Edwin Jarrin
Four Seasons Hotel Ritz Lisbon, Portugal – Patricia Rodrigues
Grandhotel Hessischer Hof, Germany – Sabrina Scherf
Holiday Inn Express Paris Canal De La Villette, France – Sébastien Guyard
Holiday Inn Helsinki West Ruoholahti, Finland – Heidi Burtsoff
Hotel Dom Carlos Park, Portugal – Antonio Painha
Radisson Blu Hotel Latvija, Latvia – Janis Priede
Radisson Blu Hotel Lietuva, Lithuania – Indre Kikutiene
Radisson Blu Hotel Olumpia, Estonia – Vitali Makejev
Sana Lisboa Hotel, Portugal – Susana Oliveira
Mexico:
Aloft Cancún – Madaly Tun Santos
Doubletree by Hilton Mexico City Airport Area – Jonathan Limon
Grand Velas Riviera Maya All Inclusive, Playa del Carmen – Ana Garcia
Great Parnassus Resort & Spa All Inclusive, Cancún – Gabriela Vazquez
Hotel Ritz Mexico City – Erika Valdez
Iberostar Cancún – Ana Bolio
South America:
Del Rey Hotel, Brazil – Luize Ferreira
Grand Hyatt Sao Paulo, Brazil – Milena Perucci
Hilton Sao Paulo Morumbi, Brazil – Mariana Lopes
Hotel Casa Blanca Business & Spa, Brazil – Sebastian Pflaeging
Intercontinental Buenos Aires, Argentina – Silvana Pini
Intercontinental Buenos Aires, Argentina – Vanina Di Franca
About HotelPlanner & Meetings.com
HotelPlanner.com provides group hotel booking services to 2,000 groups per day in the global group travel market. The company's group hotel booking service ensures the lowest rates by allowing customers to receive quotes online directly from hotel group sales managers. HotelPlanner allows customers to book hotels for business meetings, conferences, conventions, family reunions, weddings, extended stays, tours, military reunions, church events, and group travels. The company also provides mobile applications for booking group hotel reservations. The company owns and operates Meetings.com, a site that provides information and booking services for group, meeting, and individual hotel stays for the corporate and business to business enterprises. Founded in 2002, the company has offices in London, England, (European Headquarters), Hong Kong (Asia Headquarters), West Palm Beach, FL (USA Headquarters), and Las Vegas, Nevada.
HotelPlanner.com is proud to provide hotel reservation services to the following valued clients within the sports team and university, corporate, and government organizations. The company's Pro Sports Team clients most notably include the San Diego Chargers, Washington Redskins, St. Louis Rams, Professional Bowlers Association, European Professional Golfers (EuroPro), Super League (Rugby), AFC Wimbledon, Millwall F.C., and Queens Park Rangers F.C. In terms of college travel, Universities such as Texas A&M, New Mexico State, Saint Mary's College, Bradley University, University of Reno-Nevada, University of Illinois-Chicago, Northeastern University, Cal Poly, and California State University Northridge use HotelPlanner to negotiate their group travel and recruiting stays. Corporations such as CROMPCO, Siemens, Jackson Motor Sports, National Grid, Chicago Bridge & Iron, Publix, and Servpro and Government clients such as the State of Louisiana, State of Mississippi, Government Services Agency, US Marines-Camp Le Jeune (Group), and US Communities also utilize HotelPlanner.com as their hotel procurement provider to negotiate hotel rates, book hotel reservations and provide excellent service year-round.
For more information, please contact Bruce Rosenberg at (818) 661-0244 or via email at Bruce.Rosenberg(at)hotelplanner(dot)com