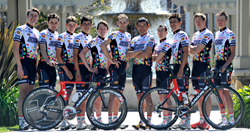 Old Saybrook, CT (PRWEB) February 01, 2016
BikeTag™, a sophisticated ride tracking and safety device that makes any bike smart, has become the official ride tracking and safety platform for the Jelly Belly Cycling Team presented by MAXXIS.
"We are excited to start using the BikeTag. In addition to automatically capturing riding data, their device will give us peace of mind when our riders are out there logging training miles," said Jelly Belly Cycling Team Director Danny Van Haute.
The BikeTag™ is a completely automatic safety and ride tracking device that makes any bike smart. The BikeTag's patent-pending technology uses motion sensors and proximity detection inside a lightweight, bike-mounted device to accurately detect when a bike is being ridden. Once in motion, the companion smartphone begins recording key riding data such as location, speed, route traveled and riding time. This information can be viewed after the ride directly in the BikeTag smartphone application or exported to Strava. Riders can also choose to have their personal network of followers notified when a ride starts, ends and if a crash has occurred. In the event of a crash, a follower is notified of the exact location and time of the crash, as well as other information to assist in providing a rapid response.
BikeTag Co-founder and CEO John Anthony says, "We are excited to become the official ride tracking and safety platform for the Jelly Belly Cycling Team. Whether you race bikes for a living or ride a bike to work, we wanted to build a product that removed the technical complexity associated with today's ride tracking products while helping to improve the rider's safety. In the United States, bike commuting has grown by 47% in the past decade1 yet still remains one of the most dangerous outdoor activities with two cyclists being killed on average every day and thousands more injured2 each year due to accidents." (Sources: 1. peopleforbikes.org, 2. pedbikeinfo.org)
Tagit Labs, the makers of the BikeTag, specializes in delivering robust sports technology products for outdoor activities using real-time motion sensor data combined with engaging mobile applications. Tagit Labs launched the BikeTag in October, 2014.
BikeTag™ can be purchased online at http://www.biketag.com. The free BikeTag mobile app can be downloaded from the App Store ℠ (a service mark of Apple Inc.). For more information about BikeTag, please visit BikeTag.com, friend them on Facebook at Facebook.com/TheBikeTag, follow them on Twitter at @BikeTag or contact them at info@biketag.com.
Jelly Belly-Maxxis is entering its 17th year under its title sponsor Jelly Belly and plans to race numerous NRC events in the U.S. including The Redlands Bicycle Classic and hopes to earn invitations to the Amgen Tour of California, the USA Pro Challenge, the Larry H. Miller Tour of Utah, and the Tour of Alberta. For race results and the most current team news, check out jellybellycycling.com.