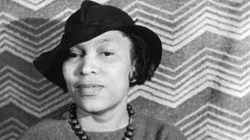 "Hurston's body of work and unique style transcends time as she remains highly regarded as one of the shining stars of the Harlem Renaissance who continues to fascinate festival loyalists worldwide. As the event producers, we the Association to P
Orlando/Eatonville, Florida (PRWEB) January 28, 2016
The 27th annual Zora Neale Hurston Festival of the Arts and Humanities (ZORA! Festival) is set to be a celebration of the 125th birthday of festival namesake writer, anthropologist and folklorist Zora Neale Hurston. The festival runs through January 31, 2016 in historic Eatonville, Maitland and Orange County Florida. ZORA! Festival is a multi-day, multi-disciplinary event that commemorates the life of 20th Century Renaissance woman Zora Neale Hurston; her hometown, Eatonville and the cultural contributions people of African ancestry have made to the United States and the world.
Festival headliners include renowned scholars, distinguished elders, fine artists and legendary entertainers. Festival producers have put together a stellar amalgam of educational programming, cultural presentations, artists' talks, expert workshops, heritage talks and tours, theatrical performances, musical concerts, themed parties and special events.
For the full schedule of events, visit: http://zorafestival.org/full-schedule/full-schedule-3/. For ZORA! Festival 2016 events visit http://www.zorafestival.org or call 407-647-3307.
ZORA! Festival 2016 was made possible through the support of many partners including Orange County Government Arts & Cultural Affairs Program, White Glove Entertainment, Florida Blue, the UCF College of Arts & Humanities and the Zora Neale Hurston Institute for Documentary Studies, Visit Orlando and Rollins College.
About the Association to Preservation the Eatonville Community, (P.EC.)
The Association to Preservation the Eatonville Community, is the nonprofit historic preservation group that organizes ZORA! Festival and whose mission is to enhance the resources of Eatonville, to educate the public about the town's historic and cultural significance, and to use the community's heritage and cultural vibrancy for its economic development.
Media Credentials
Approved media will have access to interview areas for which press has RSVP'd in advance and received written confirmation from Tina Spencer. This includes media opportunities for the speakers and artist who are in town, as well as other ZORA! TM Festival events. All media must email tinaospencer(at)gmail(dot)com to request access to cover these opportunities. We will do our best to honor all requests.