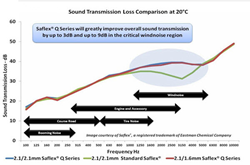 Improve your sound system by up to 9db.
Phoenix, AZ (PRWEB) February 05, 2016
New Type Of Auto Glass Available
There is a new type of glass called Soundscreen Glass, it's a new type of glass that is scientifically engineered to trap desired sound in and block out unwanted sound, from inside a car.
See what makes Carlite Glass so unique.
On What Areas Can Carlite Soundscreen Glass Be Installed?
The Ford Motor Company recommends Carlite auto glass above all other soundscreen auto glass manufacturers and it can be installed in windshields, side windows, backlights, sunroofs and moonroofs.
What Types Of Vehicles Can Use Carlite Soundscreen Glass?
There are different types of soundscreen glass, but Carlite is the best, you can get window replacement with Carlite glass for the following vehicle brands.

View the chart below from Carlite.com to see how the soundscreen actually works..
Unique Fact About Carlite Soundscreen
Not all glass manufacturers make all the glass needed for all vehicle models. Carlite only makes auto glass for Fords, Lincolns and Mercuries, and the chart here shows the dramatic difference it makes.
Windshield glass does not generally provide UV protection, but Carlite soundscreen glass does have it, equivalent to SPF 157.
Where To Get Carlite Soundscreen Glass Replacement?
In Arizona, Reliable Glass is one of the best Phoenix auto glass companies and can get more affordable prices on glass than some smaller companies. Have a cracked or broken windshield? It's possible insurance may cover some or all of the windshield replacement costs.