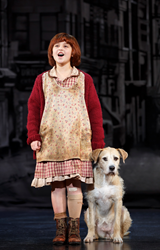 New Brunswick, NJ (PRWEB) January 29, 2016
State Theatre presents ANNIE on Saturday, February 27, 2016 at 2pm and 8pm and Sunday, February 28, 2016 at 8pm. Directed by original lyricist and director Martin Charnin for the 19th time, this production of ANNIE is a brand new physical incarnation of the iconic Tony Award®-winning original. ANNIE is sponsored by The Horizon Foundation for New Jersey. Tickets range from $35-$75.
"We are thrilled to have the support of The Horizon Foundation for New Jersey," said Tom Carto, president & CEO of the State Theatre. "Annie is a great show to bring families together and we are thankful for Horizon's support of this beloved musical theatre classic."
"The State Theatre is a leading cultural venue in New Jersey, and the Horizon Foundation is proud to be the presenting sponsor of Annie and other arts programs that entertain and enrich the lives of Garden State residents of every age," said Jonathan R. Pearson, Executive Director of The Horizon Foundation for New Jersey.
ANNIE has a book by Thomas Meehan, music by Charles Strouse and lyrics by Martin Charnin. All three authors received 1977 Tony Awards® for their work. Choreography is by Liza Gennaro, who has incorporated selections from her father Peter Gennaro's 1977 Tony Award®-winning choreography.
The celebrated design team includes scenic design by Tony Award®-winner Beowulf Boritt (Act One, The Scottsboro Boys, Rock of Ages), costume design by Costume Designer's Guild Award winner Suzy Benzinger (Blue Jasmine, Movin' Out, Miss Saigon), lighting design by Tony Award® winner Ken Billington (Chicago, Annie, White Christmas), and sound design by Tony Award® nominee Peter Hylenski (Rocky, Bullets Over Broadway, Motown). The lovable mutt "Sandy" is once again trained by Tony Award® Honoree William Berloni (Annie, A Christmas Story, Legally Blonde). Musical supervision and additional orchestrations are by Keith Levenson (Annie, She Loves Me, Dreamgirls).
The production features a 25 member company: in the title role of Annie is Heidi Gray, an 11-year-old actress from the Augusta, GA area, making her tour debut. Gilgamesh Taggett stars as Oliver Warbucks. In the role of Miss Hannigan is Lynn Andrews. Also starring in the tour are Chloe Tiso as Grace, Garrett Deagon as Rooster, Lucy Werner as Lily, and Jeffrey B. Duncan as FDR. Macy and Sunny, rescue terriers, star as Sandy.
The orphans are Sage Bentley as Tessie, Bridget Carly Marsh as July, Molly Rose Meredith as Pepper, Emily Moreland as Kate, Annabelle Wachtel as Molly, and Casey Watkins as Duffy.
The original production of ANNIE opened April 21, 1977 at the Alvin Theatre and went on to win the New York Drama Critics Circle Award for Best Musical, seven Drama Desk Awards including Best Musical, the Grammy® for Best Cast Show Album and seven Tony Awards®, including Best Musical, Best Book (Thomas Meehan) and Best Score (Charles Strouse, Martin Charnin). The show remains one of the biggest Broadway musical hits ever. It ran for 2,377 performances after it first opened, and has been performed in 28 languages and has been running somewhere around the world for 37 years.
The beloved score for ANNIE includes "Maybe," "It's the Hard Knock Life," "You're Never Fully Dressed Without a Smile," "Easy Street," "I Don't Need Anything But You," and the eternal anthem of optimism, "Tomorrow."
For tickets or more information, call the State Theatre ticket office at 732-246-SHOW (7469), or visit us online at http://www.StateTheatreNJ.org. The State Theatre ticket office, located at 15 Livingston Ave, New Brunswick NJ, is open Monday through Friday, 10am to 6pm; Saturday 1pm to 5pm; and at least three hours prior to curtain on performance dates unless otherwise specified. For information on group outings and discounts, call 732-247-7200, ext. 517. Some additional ticket and transaction fees may apply.
State Theatre, a premier nonprofit venue for the performing arts and entertainment. The theater exists to enrich people's lives, contribute to a vital urban environment, and build future audiences by presenting the finest performing artists and entertainers and fostering lifetime appreciation for the performing arts through education. The State Theatre's programs are made possible, in part, by funding from the New Jersey State Council on the Arts/Department of State, a Partner Agency of the National Endowment for the Arts, and contributions from numerous corporations, foundations, and individuals. The Heldrich is the official hotel of the State Theatre. Magic 98.3 is the official radio station of the State Theatre. The Star-Ledger is the official newspaper of the State Theatre. United is the official airline of the State Theatre.
STATE THEATRE
15 Livingston Ave
New Brunswick, NJ 08901
Ticket Office - 732-246-SHOW (7469)
Online - http://www.StateTheatreNJ.org
PHOTOS AND INTERVIEWS FURNISHED UPON REQUEST
Please contact Kelly Blithe at 732-247-7200, ext. 542 or by email at kblithe(at)StateTheatreNJ(dot)org.
Up-to-the-minute information on events and State Theatre news, online at http://www.StateTheatreNJ.org.
# # #