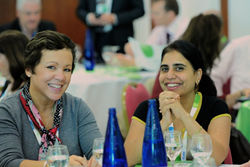 We are excited to receive this important WBENC certification and be counted among this exclusive group of vibrant women-owned businesses that can provide clients with service excellence and supplier diversity."
Atlanta, Georgia (PRWEB) January 29, 2016
Innovaacom, a leading provider of medical education and training for healthcare professionals worldwide, today announced it has been granted certification as a Women's Business Enterprise by the Women's Business Enterprise National Council (WBENC).
WBENC is the largest third-party certifier in the United States of businesses that are at least 51% owned, operated, and controlled by women. The certification by WBENC is a rigorous process involving an in-depth business review and site inspection. The certification provides Innovaacom with an advantage over non-certified companies when it comes to working with public agencies and private corporations who have mandates or internal missions to award contracts to women-owned businesses and minorities.
"It is truly an honor to be a part of an organization that promotes and fosters growth for women-owned businesses," said Ornella Vincenzino, President and CEO of Innovaacom, "We are excited to receive this important WBENC certification and be counted among this exclusive group of vibrant women-owned businesses that can provide clients with service excellence and supplier diversity."
Since 2007, Innovaacom has collaborated with industry leaders to prepare healthcare professionals for tomorrow's science and medicine. To date, nearly 11,000 nurses, physicians and pharmacists in more than 32 countries from across Europe, Asia, Latin America, Africa, China and the Middle East have benefitted from the programs that help prepare them to address today's challenges and opportunities for innovations in global healthcare. To learn more, visit http://www.innovaacom.com.
WBENC works to promote women-owned businesses and open new channels for partnerships that can fuel the economy. Depending on your company's status, doing business with Innovaacom can provide you with additional bottom line value and benefits. To learn more about the benefits of working with a women-owned business, visit http://www.wbenc.org.
About Innovaacom
Founded in 2007, Innovaacom is a global agency providing medical education and training for healthcare professionals worldwide that applies globally and empowers locally. Innovaacom's programs combine science with leadership and communications skills training that helps translate the latest scientific and medical innovation into real clinical practice. Program design and delivery includes CME and non-CME training programs for physicians, nurses, and community pharmacists that enhance the quality of scientific exchange to advance science and medicine. Innovaacom has strategically placed offices in the U.S., U.K., UAE, New Zealand and Italy to best serve its clients.
About WBENC
The Women's Business Enterprise National Council (http://www.wbenc.com) is the nation's largest third party certifier of businesses owned and operated by women in the United States. WBENC is a resource for more than 1,000 U.S. companies and government agencies that rely on WBENC certification as an integral part of their supplier diversity program.