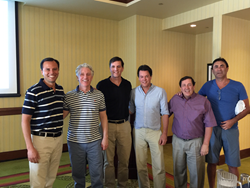 "We organized this meeting to include some of the top world's experts in facial plastic and reconstructive surgery" said Dr. Batniji
Newport Beach, CA (PRWEB) January 30, 2016
Dr. Rami K. Batniji directed the 4th Biennial Caribbean Facial Plastic Surgery Conference held this year in Barbados, January 20-24, 2016. Professionals from around the globe gathered for multi-specialty meetings in the field of facial plastic and reconstructive surgery. Dr. Batniji presented on rhinoplasty and necklifts and moderated a panel on eyelid surgery (Blepharoplasty).
"Facial reconstruction gives patients hope for elevated self-esteem and a sense of normalcy. It's an amazing process that can produce remarkable results," said Dr. Batniji.
Attendees enhance professional skills
Conference attendees honed their skills and professional knowledge learning about leading edge techniques in the fields of facial plastic and reconstructive surgery. Participants completed the conference with broader knowledge in several areas of reconstructive surgery.
Attendees participated in discussions about surgical and non-surgical treatments for rejuvenation of the upper face, including management of the brow and eyelid. They also examined time-related changes to the lower eyelid and options to address this area. Presentations were given on fundamental and new principles in rhinoplasty, including discussion of rhinoplasty techniques.
"Plastic surgery nowadays is wonderful due to modern technology - there are fewer risks for complications and recovery isn't as painful," said Dr. Batniji.
Dr. Batniji specializes in facial rejuvenation
Dr. Batniji is board certified by the American Board of Facial Plastic and Reconstructive Surgery as well as the American Board of Otolaryngology. His practice is limited exclusively to facial plastic and reconstructive surgery. There are several procedures Dr. Batniji performs more often than others. These include: include rhinoplasty, revision rhinoplasty, facelift, necklift, and blepharoplasty. Dr. Batniji also performs reconstructive surgery, including skin cancer reconstruction and facial fracture repairs.
Dr. Batniji has developed a reputation not only for having an incredible work ethic but also for being a patient and kind doctor who cares about his clients.
R. Stockton of Corona, CA said Dr. Batniji is, "a highly skilled artist with amazing work ethic, and has a heart made of pure gold. One of the best doctors I have ever met. Thank you Dr. Batniji for restoring my self-esteem in the way I look. … Not to mention that my experience at your office was amazing! …I felt taken care of from the moment I walked into your office. You have exceeded my expectations and I commend you on being so detail oriented, so patient, and wonderful to talk to. You have my trust and my deepest admiration."
Satisfaction comes from helping clients
Dr. Batniji chose a career in facial plastic surgery because he knew it would enable him to help people who had been affected by serious illness or trauma. He enjoys the meticulous work and eye for detail that facial plastic surgery requires. It perfectly combines his love of science and art.
He currently serves as CME Chairman of the professional society the American Academy of Facial Plastic and Reconstructive Surgery (AAFPRS). He will direct the AAFPRS' Facial Rejuvenation meeting this March in Beverly Hills. He has two California practices, located in Beverly Hills and Newport Beach, CA.
Batniji Facial Plastic Surgery
361 Hospital Road, Suite #329
Newport beach, CA 92663
954-650-8882
http://www.drbatniji.com/